Garmin Forerunner 620 Review – Sophisticated Sports Watch with Recovery Advisor
GPS running watch with Touchscreen and high-resolution color display
Tracks every performance indicator like total distance, finishing time, current pace and heart rate
Provides recovery advice and VO2 max estimate based on the heart rate calculations
Features HRM-Run™ monitor¹ that reveals your total steps, vertical oscillation and ground contact time
Supports social media sharing, live tracking and automatic uploads to Garmin Connect
Fully compatible with the training features of Garmin Connect
Garmin Forerunner 620 supports some exclusive features like Race Predictor, Recovery advisor and VO2 max estimate that lets you train smarter, raising it to the status of your virtual trainer. HRM-Run monitor¹ has been incorporated in the Forerunner 620 to provide more advance performance data by monitoring your cadence or total steps, vertical oscillation and ground contact time. The built-in accelerometer eliminates the need of installing separate foot pod for tracking your performance during the indoor activities. In fact, Forerunner 620 turns into your personal running coach, empowering you to realize your full potential with the help of its advanced and sophisticated features.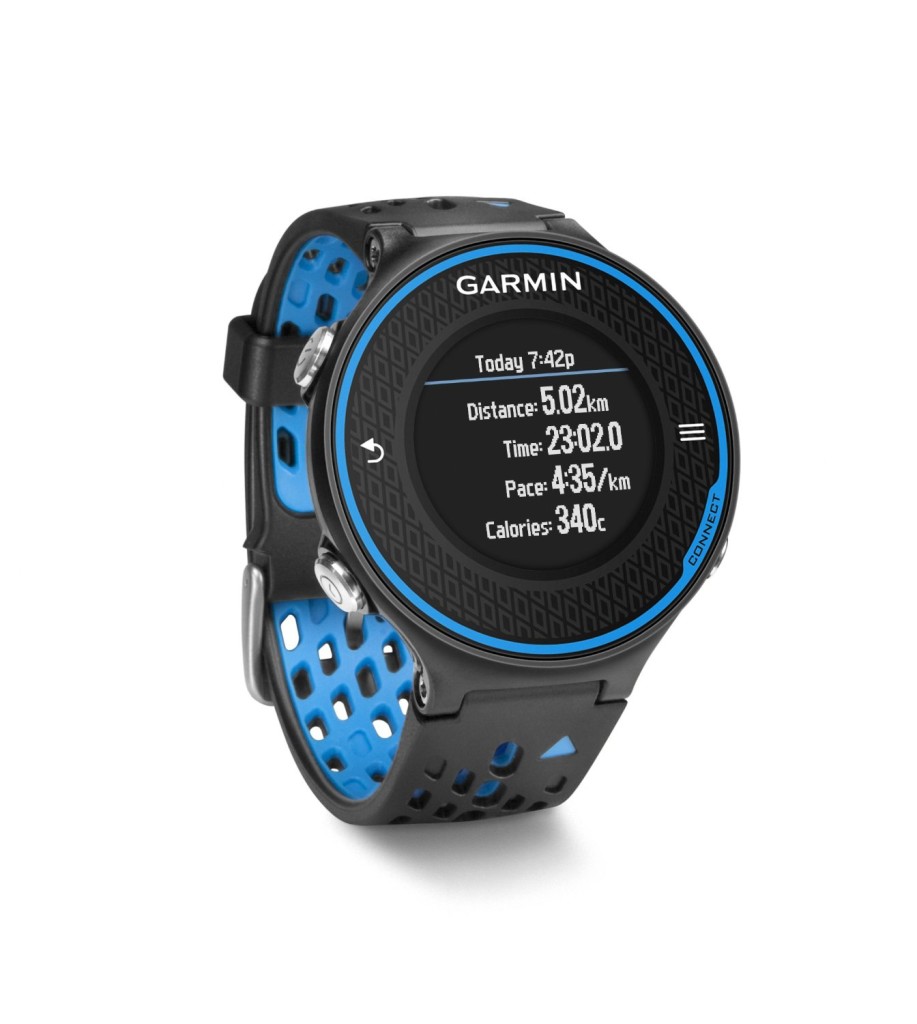 VO2 max screen
Maximal oxygen consumption is one such performance indicator that can be very instrumental in improving your performance and overall fitness. The VO2 max features incorporated in your Forerunner 620 reveal the maximum oxygen consumption of your body by using several performance variables like heart rate and its variability, running speed and 620 crunches data. In fact, the VO2 max screen of your Forerunner 620 indicates your ultimate performance potential by telling you the maximum amount of oxygen consumption in a minute in terms of per kilogram body weight.
The colorful display of its VO2 max screen provides valuable information about your current fitness level by providing a comparison of VO2 max estimate from other runners who belong to your age group and gender. Using your VO2 max data, Forerunner 620 provides your expected race timings for different racing events. This feature can be very useful in improving your race timings by targeting a race timing of your optimal performance.
Rest Day or Run Day
Garmin Forerunner 620 is smart enough to predict your expected recovery time, and therefore, eliminates the guesswork in deciding the timings of a break during workouts. This sophisticated sports watch understands your physiology by analyzing your previous workout and measures the optimal recovery timings by considering your current heart rate and performance data during your last workout. In simple words, it tells you when you can run your next race after recovering from a hard running exercise.
The combination of HRM-Run turns your Forerunner 620 into a real-time recovery advisor, informing the optimal recovery period within a few minutes of your completed run. The simple green color coding on the gauge makes it clear that you are ready for a run while the red color with recovery duration, say two days, indicate that you shouldn't attempt a hard run during the next two days. You can either go for a light recovery run or enjoy your complete rest.
Follow your form
Forerunner 620 is a unique GPS running watch with the capability of simultaneously tracking and reporting 'multiple metrics' of your run. In fact, this is the first GPS watch featuring 'multiple metrics' reporting. Forerunner 620, in combination with HRM-Run monitor, has been designed to track and report cadence, vertical oscillation and ground contact time of your run. These running dynamics can significantly influence your running economy.
The built-in accelerometer of HRM-Run tracks your torso movements during the run to work out your running dynamics. In simple terms, cadence indicates the total number of steps (both left as well as right) per minute while vertical oscillation specifies that the degree of bounce during your run in centimeters. The ground contact time, obviously, indicate the duration in milliseconds when your steps remain grounded during the run. The colorful gauge of Forerunner 620 shows these running dynamics in a very simple and easily comprehensible manner and allows the users to compare their running matrices to other runners.
Get Connected
Forerunner 620 features wireless connectivity for automatically uploading the performance data to Garmin Connect. In fact, Forerunner 620 is equipped with the most sophisticated connectivity features. It can not only synchronize with your Smartphone using Garmin Connect Mobile app, but also let select several Wi-Fi hot spots for easy connection and uploading of performance data to Garmin Connect.
The advance connectivity and live tracking features of forerunner 620 empower you to share your performance stats with your friends or fans in real time. When paired with your Smartphone using our app, Forerunner 620 not only allows you to use LiveTrack, but lets you train with the help of our free training plans at Garmin Connect. This Smartphone pairing feature provides additional benefits of a faster GPS fix as regular connectivity results in significantly improved satellite data transfer rate. The free access to our social media platform allows you share your achievements with the friends and community.
Specs: Physical & Performance:
Physical dimensions 1.8″ x 1.8″ x 0.5″ (4.5 x 4.5 x 1.25 cm)
Display size, WxH 1.0″ (2.54 cm) diameter
Display resolution, WxH 180 x 180 pixels
Touchscreen Yes
Weight 1.5 oz (43.6 g)
Battery rechargeable lithium-ion
Battery life up to 6 weeks in watch mode; up to 10 hours in training mode
Water rating 5 ATM
GPS-enabled Yes
High-sensitivity receiver Yes
Maps & Memory:
Basemap No
Ability to add maps No
Accepts data cards no
History 200 hours of activity data
Waypoints/favorites/locations 0
Routes 0

Features & Benefits:
Heart rate monitor Yes (Some versions)
Bike speed/cadence sensor No
Foot pod Yes (optional)
Automatic sync (automatically transfers data to your computer) Yes
Garmin Connect™ compatible (online community where you analyze, categorize and share data) Yes
Virtual Partner® (train against a digital person) Yes
Virtual Racer™ (compete against other activities) No
Courses (compete against previous activities) No
Auto Pause® (pauses and resumes timer based on speed) Yes
Auto Lap® (automatically starts a new lap) Yes
Auto Scroll (cycles through data pages during workout) Yes
Multi-sport (changes sport mode with a press of a button) No
Advanced workouts (create custom, goal-oriented workouts) Yes
Pace alert (triggers alarm if you vary from preset pace) Yes
Time/distance alert (triggers alarm when you reach goal) Yes
Vibration alert: (choose between alert tones and/or vibration alert) Yes
Interval training (set up exercise and rest intervals) Yes
Heart rate-based calorie computation Yes
Training Effect (measures impact of an activity on your aerobic fitness) Yes
Customizable screen(s) Yes
Barometric altimeter No
Unit-to-unit transfer (shares data wirelessly with similar units) No
Power meter compatible (displays power data from compatible 3rd party ANT+™-enabled power meters) No
Temperature (displays and records temperature while you ride) No
Sport watch Yes
V02 max estimate: yes
Recovery advisor: yes
Race predictor: yes
Running dynamics: yes
Watch functions include date and alarm.
Run/walk feature: yes
In the Box:
Garmin Forerunner 620
•Forerunner 620 GPS watch
•Charging data cradle
•Manuals
Forerunner 620 Bundle
•Forerunner 620 GPS watch
•HRM-Run monitor
•Charging data cradle
•Manuals