Do you wear Make up on race day?
Ok Ladies.. Make up on race day?? Yes or No? If yes why. Men I know you think we are beautiful no matter what. And we love you for that. But seriously do you wear make up on race day?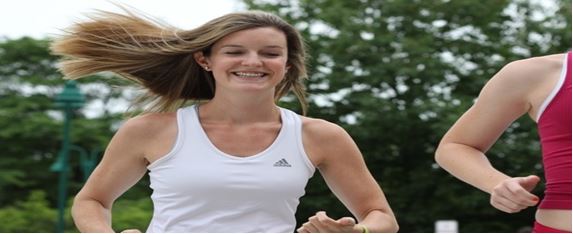 Just a little mascara, definitely not full makeup. But I don't want to look half dead in race photos. 🙂
Nope! I get all sweaty which will more than likely just mess it up or run it into my eyes! Just a little mascara and chapstick and sunblock
I do fake lashes so it doesn't run (road or trail, not mud). And a lip stain that can be refreshed w Chapstick.
The most I use is a tinted moisturizer with SPF, and that depends on how warm it is outside. If it's too warm it runs into my eyes and stings so I need a sweat-proof sunblock.
If you think you would have sweat dripping down your face, Id say no!! you dont want to cross the line lookin like a killer klown from outer space with running mascara and what not!! If you can pull it off, Id say yes!!! So many women dont run for aesthetic reasons, I say you can run and K.I.K. Keep It Kute!!!
Make up. I don't leave the house without it…….. blush, mascara and lipstick.
I wear a little eye makeup…no foundation, blush, powder etc.
Waterproof mascara and lightly tinted Chapstick
I probably should start using a sunscreen so I don't get raccoon eyes from my sunglasses. I swear last year it took till November for the tan line to fade.
Yes, but not a lot. I don't want to look dead in my pics! Lol
Sometimes I wear lipstick to keep my lips from getting dry but that's it nothing else
Waterproof mascara, Chapstick, sunblock
The only reason why I wear makeup is because I look awful awful for pictures after a run with no makeup on especially if there is an event afterwards.I ran one with no makeup and looked sick,so never again who cares if it sweats off….
No! It swears off anyway, why waste it?;)
If it sweats off then isn't it better to put it on after the race?
Chapstick. Waterproof mascara only for night races. I can't manage putting crap on my eyes at 2:30 in the morning, lol! 🙂
I wear 24 longlasting makeup and i'v never had it melt off,just had to dab the sweat.When I say makeup I mean just face makeup and a little mascara,not eye shadow or anything.
No makeup. It runs when I sweat 🙁
Full…..it is my sunscreen and mine doesn't run
Never! I sweat WAAAAY too much so it's pointless.
I never leave the house without mascara…race day is no different!!
I only wear eye make up and that's it.
No. … I cover my face, neck & hands in Vaseline. I sweat a lot so the Vaseline prevents it from getting in my eyes & burning my face.
Tinted moisturizer w/SPF and waterproof mascara. Lip balm…always!
I use tinted moisturizer, and lip stain. And keep lip moisturizer in my pocket to keep lips from getting dry.
Hell no!! Never do when training or day of race!!
No. Never wear makeup ever. I try to remember Chapstick for long races but last time I forgot even that and had to take the proffered Vaseline on the Popsicle stick.
No ma'am and I never wear make up its so bad for your skin! Ladies y'all are beautiful without it!
I wear mascara and thats about it! To avoid the just rolled out of bed look:p
No. It's race day. Don't need to clog my pores. Besides, who am I trying to impress? I don't do makeup on race day. Sun screen, maybe, even then I don't like wearing anything on my face when I am sweating 🙂 … And we all are beautiful naturally 🙂
No way! Sunscreen & lip balm only.
Heck no!!! I am working out, not trying to impress someone!
I didn't know you could do that! My sweat is always burning my eyes. Nice tip thanks!
I'm a mascara addict 🙂 tons of it everyday
I wear eye makeup so it looks like I actually have eyes 😉 I like to look somewhat like me in photos.
I always think "what if I collapse on the side of the road & end up with a picture in the paper?" I want to go out looking pretty
I do. But I have Rosacea and blond eyelashes. I don't want to look like I don't have eyelashes in race photos. 🙂
No. I am not there to be beautiful for anyone else, if only for 5 min before it runs down my face from sweating. I am there t accomplish something for myself & only that.
I don't wear makeup at all… But if I did I'm sure it wouldn't last thru a race. I'm beet red and sweating like crazy when I finish running!
No. Runs when I sweat. And I have such rosy cheeks at the finish!
Just mascara and eyeliner… If I wear any at all. But for the love of all runners… DO NOT PUT ON PERFUME… Nothing like gagging on someone as they pass you (or you pass them)
No, sweat gets it in my eyes, burning, smeary mess. No, no, no!
I use BB cream everyday, and it has the added bonus of the sunscreen.
I wear tinted moisturizer, waterproof mascara, and Chapstick on race days. I have uneven skin tone so I like the hint of color, and the mascara is for pics. Chapstick is a must every day.
BB cream which has sunscreen. That's it.
Depends on my mood and how early I'm getting up. But it's just eyeliner, feel like it helps me look alive lol
Just waterproof mascara and lip balm. My blonde eyelashes are invisible!
If by make up you mean sunscreen, Chapstick/lipgloss, and mascara (I always wear it because otherwise I look like I don't have eyelashes) then yes.
Nope! chapstick in the winter & sunscreen always but thats it!
I do just to keep my regular routine. That way I don't get as nervous.
Waterproof mascara eyeliner and chapstick if it's not hot and humid. If it is then just chapstick.
None…just sunscreen..but often wonder if I'd look like a train wreak..after a run…If I did. I'd imagine my Mascara running down my face…foundation…all over my running shirt…eye liner…going every which way. More power to those who make the time & sustain your makeup after running.
No makeup on race day! It just sweats off anyways and clogs your pores! I do wear Chapstick and sunscreen if needed.
I use aquafore on my lips, sunscreen if needed
Mascara and always chapstick. I'd sweat anything else off within the first 5 minutes of running
Normally no, but I wore eyeliner & mascara for my half. Simply becuz I knew there would be post race pics & I didn't wanna look too awful. Lol
Used to wear mascara but have converted to nothing, you can't tell by the end of the race anyway!
Nope-I'd sweat it off anyways. I don the makeup for my celebratory drink later
Its a personal preference thing. Do what feels best for you. I wear concealer under my eyes because I feel better about myself and less stressed. If I feel confident, I usually do better in all things 🙂
I do, mostly because of race photos being taken. I usually order them, so I want to look my best. 🙂
No just lip gloss and moisturizer. Hate make up anyways, definitely couldn't do it for a race.
I seen this brand at the local bike shop. If I would stop licking my lips while I ran then the Chapstick would last longer.
Just a little powder to cover the under eye circles, and cream on the lids so I look more awake. Those stay put for me and no one notices they are there 🙂
I do I wear mascara & then I apply sunscreen for face a lil mineral powder to even out my skin tone & a lil blush. Then of course some chapstick although I've never seen the kind in the pick here & so thanks Denise…. 😉 I try to take a pre race pic because I know by the end I'll have sweat it all off … but I can't leave the house looking all blochy…
What would be the point. After all running gives you a glow and makes your cheeks all Rosie too. Haha I do have to have ChapStick though on long runs because my lips dry out
Nope I never run with makeup.
only eye makeup! I never know if my future husband is at a race or not. have to be prepared! 🙂
I decided at my last half yes to makeup eyes and Chapstick! I feel better look better and thats that..and if I die at least I look somewhat awesome!
Never. Lol it's about exercise, not looking good!
Of course!! Always look your best!! There are always photos taken anyway.
Absolutely not! I'm there for a race, not a beauty pageant. 😉 Besides, drippy makeup looks way worse than a bare face.
Nope. I'm eau naturale. Red, puffy and sweaty on all race photos
For my race I will only wear my eyebrows. Never leave the house without doing them. If you're like me, I highly recommend Anastasia Brow Pomade. You could run an ultra and those babies will still look fabulous after!
Absolutely not…I can't imagine makeup getting in my eyes or clogging up my pores…yuck!
no way. Foundation hurts my eyes when I start to sweat.
No I don't use make up at all unless it's a gala even lol
Nope, I'm too busy wiping sweat from my face tho remember I have make up on. I'll look like s clown by the end.
Race photos so yes only on race day! Makeup during workouts is bad for your skin but race day is special ! But Keep it minimal, you don't want to look like you're melting! I just use tinted moisturizer with SPF, conceal blemishes and use waterproof mascara
Sometimes mascara cause I pretty much don't leave the house without it..
Always, and it pays off in race photos 🙂
Heck yeah I wear makeup on race day! (Don't hate) I don't go crazy just face powder and mascara and always use my Burt's bees Chapstick that's a must but c'mon I want to look half way decent for post race pics and festivities!
That's funny to me to wear make up for just the pics! Heck I enjoy looking a mess. Shows how hard you worked and pushed yourself! plus I love making crazy faces too!
No cause its runs down my face
I go light on the makeup all the time. The advantage is that when I see myself without makeup in race photos, I really don't look that different. I'm happy with my makeup free face on race day. 🙂
That's how I feel too Lindsay Nicole & we always take a picture on race days… If i'm just running here at home then it's just sunscreen & actually if anything stings my eyes it's usually the sunscreen….. I know by the end I've probably sweated off all the makeup anyway & of course I always cleanse my face thoroughly as soon as I get home but I do that daily… 😉
No way! smeary, sweaty makeup looks icky.
Hell to the no. But I rarely wear makeup anyways. Make up on race day when you are already waking up way too early? Ain't nobody got time for that. Beast mode doesn't require make up 😉
I wear BB cream because it helps with flaws and it's not heavy. Also, the SPF is good too. Water proof mascara and Chapstick.
Mascara and eyeliner. My pics look so much better and I found this awesome mascara that is sweatproof!
Only if I reeeeeally have a bad breakout.
Just my two cents, and i'm a guy. Ok, makeup question, no, but on another note. I don't know why I do this. I take a shave and a shower BEFORE I head to the race. I know I'm going to take a shower after. But it's a ritual I do. Always have to be clean shaven and showered before I had out the door on race days.
If you're single and you happen to catch the eye of a man while you're all red, in your natural state, and sweaty after a race, then you know that man has potential!! Other than that you're there to race, not pick up men. eHarmony can help you with that!!
nope it all sweats off anyways hahah
CC cream all the way (like BB cream it is basically tinted moisturizer). I'm also terribly vain so I tend to wear mascara and a little eyeliner.
Nope. It would just smear away anyways. I don't look my most glorious after a race or run anyways.
Hey, I always see good looking women at races. Forget ehamony, just run next to a woman and like the comercial goes say "sup girl…..sup girl' se how that goes.
Yep! It's part of the prep for the race, besides, I end up all messed up after races so wearing makeup makes me at least not feel that ugly.
There I go, with my tutu and makeup launching snort rockets and spit, (sometimes it's necessary, sorry!) I must look very nice, very ladylike!
No! Not in training either. It's not a beauty contest. When i sweat it's just going to be running down my face and all over my shirt from wiping my face anyway. So i dont see any use.
BB cream is like a tinted moisturizer that primes, blurs flaws and protects with SPF. I breakout pretty easy.
nah.. it all sweats off and I look like a raccoon! Nothing more beautiful than a bare face and huge smile from finishing a race!!
Honestly I never thought to do that! I don't wear makeup daily or even weekly though so maybe that's why I didn't think about it.
I always put a little on, just because I know I will be seeing other people…usually my friends. A little powder foundation & eye liner.1 hr · Like · 1
..RemoveKm Kijanka Renee if you're talking about the MK Cc Cream, just got it and <3 it!!! I use Oil of Olay total effects 7. SPF, little tint... pretty much daily wear for me. I may say 'sup girl...sup girl' ...but the problem I get is they look at me like I"m nuts and pic up the pace! ugh, dying here. Yes. I use Clinique tinted moisturizer to even my skin tone. Minimal makeup but I don't wear a lot usually what I can do in 10min. 10 min does wonderrs for my confidence on race day! Yes I do only because it makes me feel good & when I feel good, it helps me to strive to be at my best :)!
I also like to shower and wear a little perfume, I love it, it's part of my routine, it's my way of enjoying and having fun. I remember many years ago when I watched Florence Griffith Joyner on the Olympics, does anybody here remembers? I thought: how is she going to look today? Remember the loooong nails, the bling and the outfits?
I do in the summer because I blister and any kind of lotions break me out…
I don't wear makeup on race day (or any time I work out), maybe a tinted moisturizer with some SPF would be a good idea for me though!
Tinted moisturizer or BB cream that has SPF and lipgloss.
I'm lucky to get my hair brushed much less put makeup on!
I do mascara and lip gloss … neither of those sweat off! Good luck!
Oh hell nah. I don't wear that sh*t normally so why the hell would I put it on just to have it run down my face in 10 minutes?
I don't. Sweat and make up is not a nice combo. I did however wear big (but fake) diamond ear rings for the first time last race. I think I'll do that all the time
Nope!!! Watching my makeup run is not pleasant!!! Lol
No I don't. I sweat too much.
Just sunscreen and moisturizer… don't want it running in your eyes!
Uh no. Only if it's a later race and I already had it on. Early races I'm lucky to brush my hair and teeth lol!
Nope. Not running to impress anyone but myself:)
I do…..at least eyeliner and mascara.
LOL Nope. But then I don't wear it any other day either.
Yes and No, if a day off work then no make up, if running right after work , and It is already on, I just run!
I'll usually wear waterproof mascara just so I don't look completely horrible in pictures.
Oh hell yeah! Why? Because it's who I am.
true, but like I said, if she happens to catch the eye of a man while sweaty and red he has potential. And hitting on a girl while still running is kind of rude, don't you think?? 🙂 Why not wait till after the race is done?? Lol. Then you can be like, "sup girl, I noticed you left me behind about mile 1, you must be tired after running a 5k in 25 min. and running through my mind!!" 😉
Oh gosh no. I'd have melty face in a matter of minutes. I'd look like a sad clown by the time I finished.
"I will not take off my lipstick." Kathrine Switzer ( right before she became the first woman of record to run Boston)
I always do no matter what…. but I dont sweat THAT badly on my face and sweaty make up is better for me than no make up….. up to you though really 🙂
I feel sooooo much more confident and always to sunscreen under!
No — it makes my face itch and I end up wiping it off but I only wear a little powder and mascara.
only waterproof eye liner and mascara!! Gotta have eyes!!LOL
No. I do wear makeup when I'm not running, but I never wear it when I run, whether training or racing.
I do on race day but that's it. Waterproof stuff too!