Need help with my first pair of running shoes
Q: I am buying my first pair of running shoes….MY FIRST REAL RUNNING SHOES! I need help! I think I want Brooks, but don't really know. I don't know if thy run true to size or if I should size up? I am knew to running. I was 304 lbs when i started 41 days ago and now I'm 291 and running 2+ miles every day (with rest days). I love it! My body has grown so strong! Help me with my 1st pair of running shoes!

Answers from Favorite Run Community:
brooks are a superb running shoe. Are you going to a shoe store to be fitted or ordering online?
My only advice is this: the only time I'd buy shoes online is AFTER I've been fitted and evaluated and know exactly what pair, size, model, etc I want and am just looking for best price. Brooks makes an excellent shoe, I have many pairs and would say they run true to size. That said, I get a size bigger. Please get fitted first, if you haven't already
True to size or not, I always buy at least 1/2 size up than an every day shoe because your feet swell when running.
I would definitely get fitted first at a running store. I also wear brooks but after I got fitted. I would also go up 1/2 size for some room in your toe box.
go to a reputable running store and get fitted. they will let you know which shoes will be best for you. they are great. of all the running stores i have been to, they are so supportive and encouraging. a great fitting pair of running shoes (and can cater to a budget) will keep you running!! good luck!!
you can get some good help at most dicks stores. I suggest you stay with brooks and get a good cushioned shoe. look for a good sole. with your weight right now you want a lot of cushion. then consider any motion control issues.
So shoes. Here are the basics:
Neutral – high arches no ankle movement
Neutral Shoes – Brooks Ghost, Saucony Ride, Asics Nimbus
Light stability – high to medium arch some ankle movement
Light stability shoes – Brooks Ravenna, Saucony Guide, Asics Kayano, New Balance 860
Strong Stability – medium to low arches ankle movement
Strong stability shoes – Brooks Adrenaline, Saucony Omni or Hurricane, New Balance 860 ( no Asics)
Motion control – low to flat rolling inward of ankles
Motion control shoes – Brooks Addiction or Ariel, Saucony Stabil, New Balance 1340
Go to a running store!!!!!! I didn't and wasted money on 2 pairs that killed my feet. Finally went and was fitted and got Ghosts. Would have saved me a lot of money if I would have done that in the first place. Good luck
I love my ghosts but I size up a full 1 1/2 sizes simply because I run long distances and my feet swell. Get fitted by a real running store — not Dick's or Sports Authority. You may find a different shoe that is ideal for you.
I have the Brooks Ghosts 6 and just ordered a second pair. I wear 8 in regular shoes but get 9 in running shoes. These are great!
Go to a running store and get fitted. It is well worth the time investment. If you select the wrong shoes you can get injured really fast. I love Brooks, but it's really about what fits you the best. Good luck!!
Been through several other pairs of tennis shoes and now have brooks and love them. Wish I would have started with them
I LOVE my Brooks Ghosts, but they do run small. I wear an 8 in regular shoes. Wear a 9.5 in these!!!
I am on my second pair of Brooks Ghosts, my new ones being the one in the picture. I like them well enough. I really liked the ones from last year, the Ghost 5, I think. But they are pretty good shoes for neutral runners. Good luck! I would suggest getting fitted. I have never done that, but probably should
I would recommend the Brooks Dyad 7. They will provide the cushioning you need for now… maybe later get the Ghosts, or other shoes, but the Dyads will help while still on a weight loss journey even thought they aren't the most flashy or prettiest shoe in the Brooks line-up.
I just bought my 2nd pair of Brooks (switched from Glycerin 10 to Ghost 7 – and I think I like them better! Anyway, for both I wear a full 1 1/2 sizes bigger than my regular shoe size. But yes, get fitted and try different brands!
I have these same shoes and I wear one whole size bigger than my regular everyday shoes. I love my Ghosts but I have also recently bought the brooks Glycerin's and I think I love them even better!
I love my Brooks ghosts, I've switched then for working though (nursing) because I'm use to the barefoot like running shoes. Anything nike I am a 9.5 and the ghosts i ended up being a 9
Personally, I have found Brooks to run true to size. I measure a 12 and wear a 12 with no problems. I currently run in Adrenalines but have started transitioning to the Transcend.
If you're running in a Ghost 6, you should buy 1/2 size up from your actual shoe size. Trust me, I run in Ghost 6 & 7 and both are 1/2 size up and feel great.
I wear Brooks and only Brooks Running Shoes!! Glycerin make sure you have them check your stride so you get the right ones!!
I am a Brooks Adrenaline girl!!! Love them:)
I wear about a size bigger on brooks than my regular shoe size. Someone at Ricks should be able to fit you…if you have to try on yourself I generally make sure I have a thumb width from my big toe to the end of my shoe. If you need more stability….go for brooks addiction.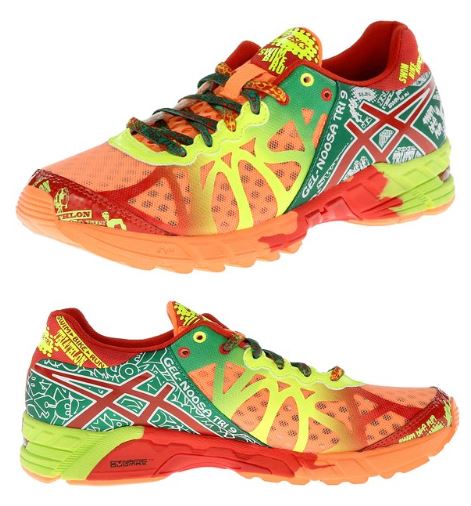 Brooks run true but get a 1/2 size bigger that's what my store had me do. I love Brooks Glycerin!
You should first find out what TYPE of shoe is good for you! Go to a Running Store (don't have to buy there) and get properly fitted for a shoe..there are 3 types of shoes.. It all goes my your foot, stride..
Go to a running store. Don't buy shoes from a department type-store. The shoes may be brand name and cheaper, but not as good. Shoe manufactures make shoes that are less expensive but not of the same quality as the more expensive shoes. Spend the money from a running store. It will make a huge difference. A running store will watch you run and walk. Then recommend a shoe that best fits you.
1/2 size bigger than normal. Go to a specialty running shoe shop to get fitted & see if your under pronator, neutral, or over pronator
I agree that if this is your first pair of REAL running shoes you need to go to a running store and get fitted! Don't play with the first pair. after you have bought a pair or two, then you should feel comfortable enough to purchase on your own. I am on my 3rd or 4th pair and I still go to Fleet Feet and get mine.
These are the running shoes I have! They run true to size. They are good for someone with a natural stride and step. Make sure you get fitted at a running shoe store first because if you don't have a natural stride and step you will regret spending money on the wrong shoes!
I have these and love them but I suggest going to a store being fitted. I tried on and ran in 6 brands before I decided on these. Try before you buy!