NIKE+ SPORTWATCH GPS POWERED BY TOMTOM®: NEW COLOURS REVIEW
Quick Review
The short of it is that the Nike+ SportWatch GPS is easy to use, has a great design and a good battery life, and access to the Web programs that allow you to upload your training information is an awesome tool for tracking workouts and getting helpful training tips. But, it is a bit on the expensive side for what it offers and the GPS tracking can be slow and is not always accurate.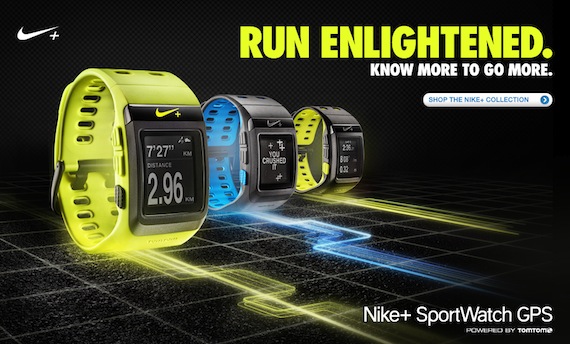 Nike and TomTom
Although Nike already had a system for runners to track their workouts through their iPod Sport Kit, in 2011 they teamed up with the GPS company TomTom to produce an even easier way for runners to keep track of their runs, the Nike+ SportWatch GPS. This sport watch not only maps out your run and tracks your distance, speed, and pace, but it also offers you access to their Website which offers a number of additional training tools.
Design Features
Just because GPS watches weren't designed with fashion as the goal doesn't mean they can't be stylish. It's the sleek design of the Nike SportWatch that helps it stand out from the other GPS watches on the market today. It has a simple black band which is the full width of the rectangular display with just a few bright yellow/green accents along the sides.
More importantly than the look of the watch is the feel of it, since the point is to run with it. Although it does look a bit bulky and feels a bit heavy, once you put it on, you will find it to be comfortable without any pinching or poking going on. Despite that, it probably wouldn't work as an everyday watch, but that's not what it's intended for anyway.



Additional Sensors
Some of the additional sensors you may want to connect to the SportWatch are the Nike foot pod which comes with the SportWatch or a heart rate monitor. The shoe sensor can be placed beneath the removable lining of your shoe and is designed to record distance and pace. It's not necessary as that is what the GPS part is doing, but it is a good backup in case you have GPS connectivity problems.
The Nike+ SportWatch GPS can also be paired with the Polar WearLink heart rate monitor that you do have to purchase separately. However, tracking your heart rate during a run is an important part of evaluating your overall physical fitness and his highly recommended by most training experts.
Functionality
Using the watch is very simple. There are three buttons on the left side, two to scroll and one to select. This is great news for anyone who gets tired of trying to guess and remember which button does what as this simplifies and streamlines the set up and reviewing processes.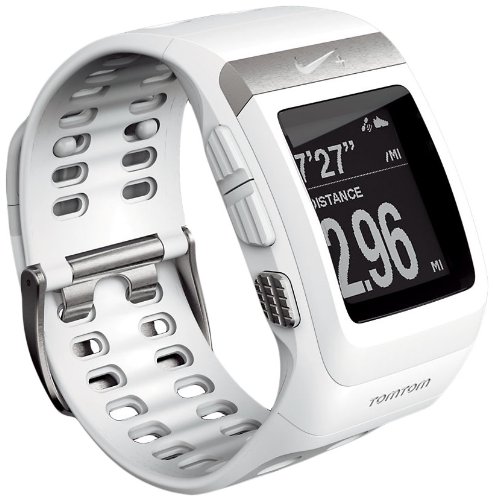 When you are ready to run, all you have to do is press and hold the yellow select button and then choose "run." Then, the watch will begin to look for a GPS signal and any other sensors you are using with the watch. Once you're all connected, all that's left to do is run.
While you're out on your run, your distance will be on the display screen, but you can use the up and down scroll buttons to see other parameters as you run, including elapsed time, calories burned, and pace in the upper part of the screen. If you want to keep track of laps either of a certain distance or time, you can program the watch to mark each lap, or you can tap the display screen to mark a lap as you are running.
When you reach the end of your run, you will press the same yellow select button to stop the recording of your workout and the watch will send you a little word of encouragement so you know you did a good job. It also will encourage you to keep moving by sending you running reminders if you go a couple of days without running.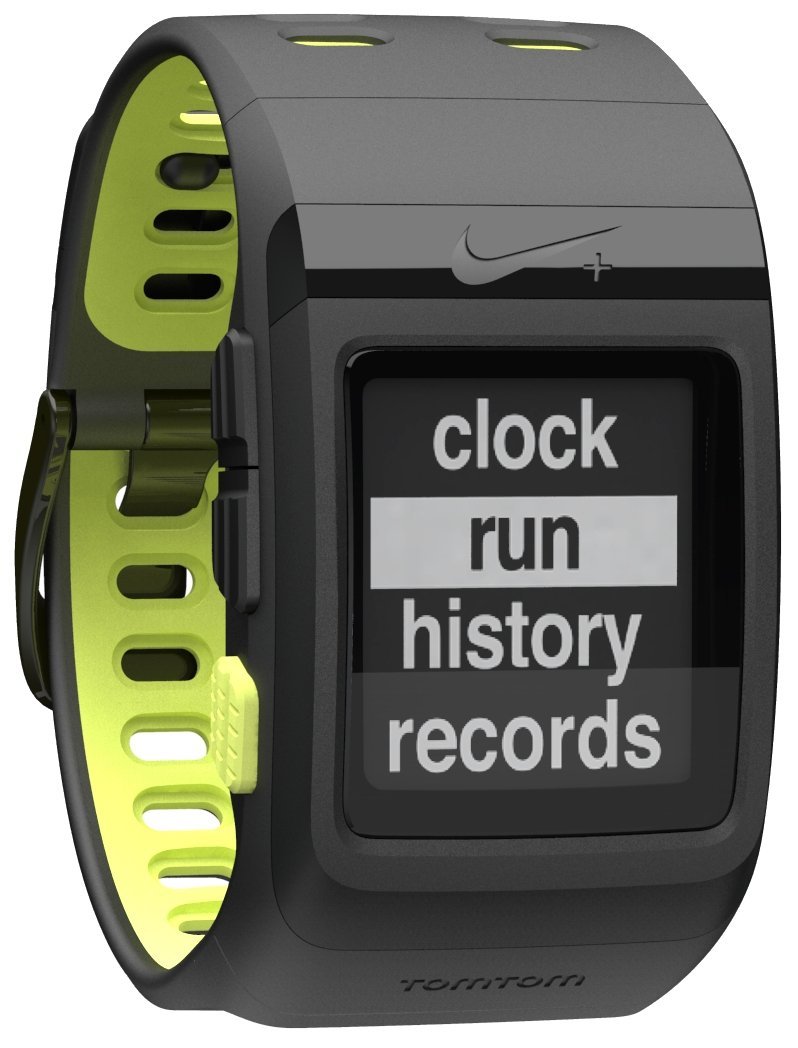 Nike claims that the battery life of the SportWatch is up to 9 hours of run time, and it only needs about two hours to fully charge again. This alone makes it quite impressive, and great for people who don't like having to remember to charge their watch every time they run or for those who like to go on long runs without having to worry about their battery dying and losing data from the second half of their run.
Using Your Running Data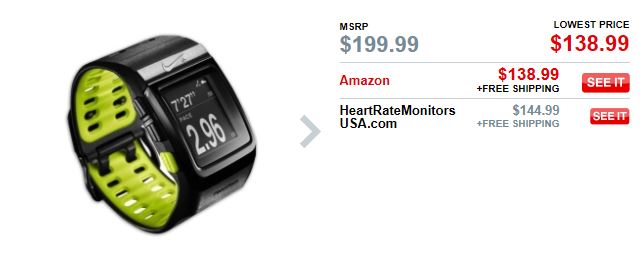 All of the running data you collect on the SportWatch can be uploaded to a Mac or a PC through a USB connector that is built right into the wrist strap which plugs into your computer's USB port. The first time you connect to your computer, the Nike+ software will automatically loads and every time after that, all of your information will be uploaded directly to the Nikeplus.com training Website where you can review all of your data.
You can see the information with your lap splits in place, and it will also show you your fastest mile, slowest mile, as well as detailed information about your route such as elevation. Additionally, the Website gives you the ability to set personal goals for yourself, customizing training programs, and it also includes a social networking part where you can post your run information on social platforms such as Twitter or Facebook and connect with other runners to share tips.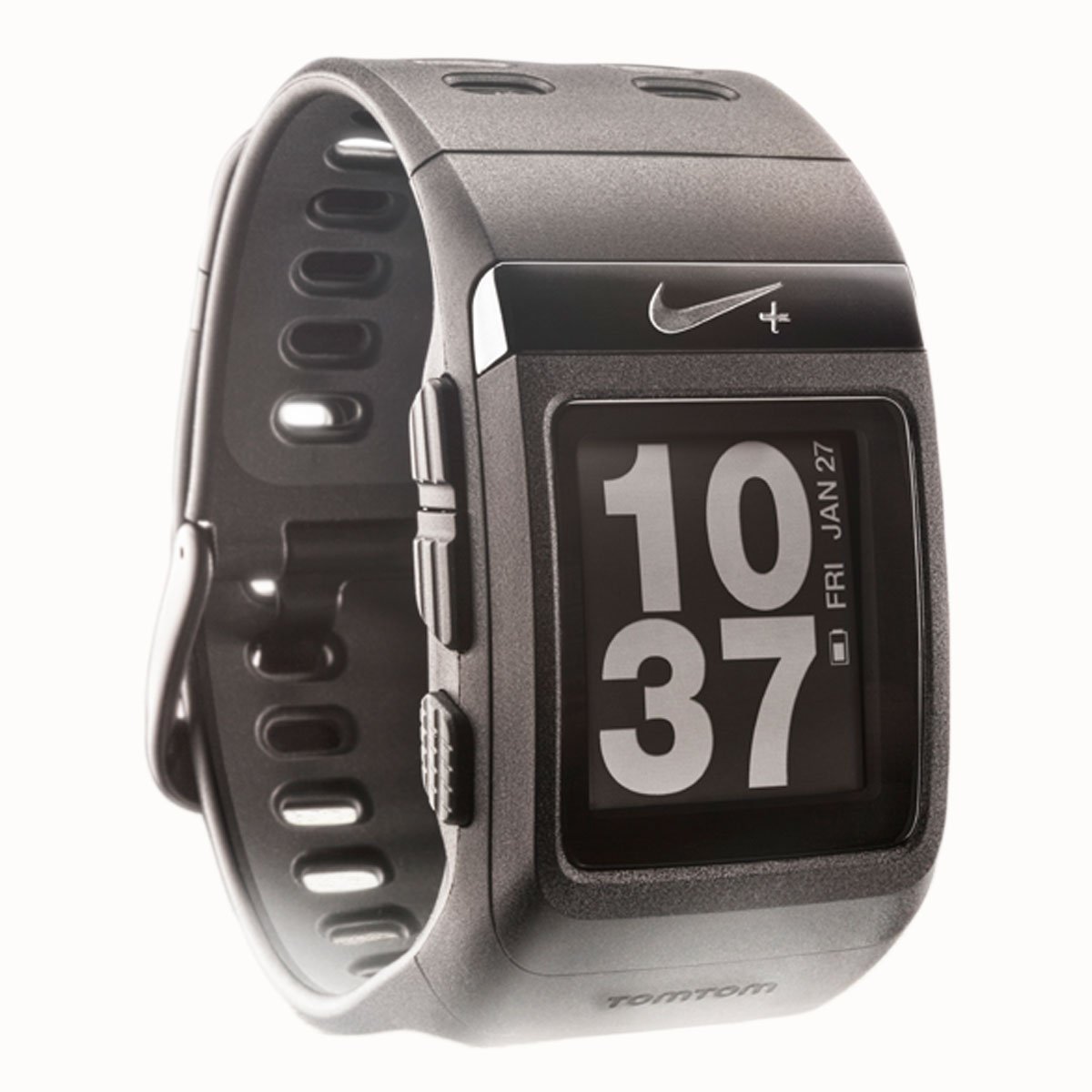 Performance Problems
The overall performance of the Nike+ SportWatch is good. It's easy to set up the first time, although you do have to plug it into your computer in order to set the correct time which is only a minor inconvenience. The GPS problems some people have run into, however, are much more concerning.
Two of the biggest problems are GPS inaccuracy and GPS connectivity. Some users have reported issues getting the watch to connect to a GPS signal during initial uses and were able to fix the problem by toggling the GPS on and off. Users have also reported inaccuracy in regards to where the watch says you are and where you actually are.
One of the downfalls of the SportWatch is that it lacks many of the advanced features that other similar GPS watches such as the Garmin Forerunner 220 have. This makes it feel a little too expensive for what you're not getting.
Conclusion
Overall, the Nike+ SportWatch GPS is a great running watch that will help you keep track of your workouts. It is definitely a watch just for runners, as it doesn't come with additional features for swimming or bicycling. Beginning runners who want a good way to track their runs will find the SportWatch a good match, but runners who are looking to really improve their form with detailed running data will have to look into a more advanced running watch like any number of the Garmin Forerunner devices.