Garmin Forerunner 610 and Garmin Forerunner 15 Review



Garmin Forerunner® 610 Overview
GPS Enabled Sleek Training Watch with Touchscreen
Tracks all performance indicators like distance, time, pace, calories and heart rate
Features highly resistant touchscreen that works in all weather conditions
Supports the user with vibration alerts for heart rate, cadence, distance, time or calories burnt
Includes Virtual Partner® and Virtual Racer™ training modes
Wirelessly connects to any computer for hassle-free uploading to Garmin Connect™
Allows detailed review of performance data on Garmin Connect™ for further planning
A Touch Faster
Garmin Forerunner 610 features a touchscreen for providing quick access to all performance indicators while you are training on any tracks. The sturdy touchscreen of Forerunner 610 has been specifically designed to withstand sweat, splashes and even rain without compromising on its sensitivity that allows you to access the settings with running gloves. The touchscreen is so sensitive and functional that you can easily change the settings or review your performance data by using swipe and scroll action. A simple tap on the screen will take you to the next page of performance data. In fact, this GPS watch allows you to access your performance data through the way you like.
Leader of the Pack
The elegant and glossy surface of Garmin Forerunner 610 is supported by the most cutting-edge technologies that make it the leader of rugged training watches. When you are using Forerunner 610 for measuring the performance indicators of your run like distance, time, current pace, heart rate¹ and calories burnt, you can be fully assured about the accuracy of your training data. Interestingly, the GPS position tracking feature of forerunner 610 may help you in finding your way back to the starting point. You can explore new routes without any fears of losing your way back.
Advanced Features
Garmin Forerunner 610 features advanced technologies like Virtual Racer™ and Virtual Partner® that let you train like a hardcore professional. In fact, Virtual Racer™ is such a versatile training tool that it can transform your runs into a matchup. Using this feature, you can test yourself by taking the challenges uploaded to Garmin Connect™ or try to improvise your best time or distance. Real time simulations and capability of tracking varying speeds create almost a virtual race against your chosen opponent. Virtual Partner® mode of Forerunner 610 lets you test yourself against the static targets you set for your run. You can customize the vibration alerts to let your Forerunner 610 give a gentle vibration when you achieve your static targets like distance, time, heart rate, cadence or the amount of calories burnt.
Train Smarter
Forerunner 610 lets you train smarter. In fact, forerunner 610 is our first premium running watch that incorporates heart beat analysis from Firstbeat to provide Training Effect data. Obviously, you train smarter when your forerunner 610 reveals the impact of your workout in imparting aerobic fitness. Several variables of your personal profile, including the heart rate and difficulty level of your workout are used in measuring the Training Effect of your activity. With forerunner 610, you can fully customize the alerts, heart rate zones and heart-rate based calorie calculations.
Store, Analyze and Share
Forerunner 610 features ANT+™ wireless technology that automatically connects to your computer when in range and seamlessly uploads the data from the internal USB stick to Garmin Connect. This hassle-free upload eliminates the need for manually connecting the device with wires for uploading your performance data. Once your training data are uploaded to Garmin Connect, you can analyze and review your performance whenever you are ready for it. The advanced analysis tools and services at our website allow you to see your run on a map with lap splits and performance summary. You can also connect with the community at Garmin Connect and share activities with other users. Garmin Connect is perfectly accessible from both Mac® as well as Windows® platform.
Monitor Your Health
Forerunner 610 also provides health monitoring features. Using forerunner 610 and Tanita BC-1000 body composition scale, you can easily monitor your weight, body water, body fat, including six other parameters of body composition. Your health data is stored on the internal USB stick of 610 and automatically uploaded to Garmin Connect when in range to access your computer.
Garmin Forerunner® 15 Overview
GPS Equipped User friendly Running Watch with Heart Rate and Activity tracking System
Monitors distance, current pace, heart beat and calories burnt
Works with foot pod for tracking distance during indoor running
Incorporates activity tracking system that counts steps and calories for reminding you to move
Extended Battery life of 5 weeks on watch/activity tracking mode and 8 hours with constant GPS
Connects to Garmin Connect™ for detailed analysis and sharing of your performance data
Garmin Forerunner 15 allows the users to track all the performance-related indicators like total distance, time and pace, but it has been specifically designed to extend the horizons of your limits by precisely monitoring your heart rate and heart rate zone. It connects with a heart rate strap¹ to let you know when you reach your target and allows you to run with high spirits. When you are training with a heart rate monitoring system, you know exactly when you can push yourself a bit harder and when it's time to slow down.
Monitor Your Activity Between Runs
The activity monitoring system is another very useful feature of Forerunner 15. You can track all your steps during the routine activities without wearing any strap on tracking devices. In fact, Forerunner 15 exactly points out the amount of calories you burn during routine activities so that you can plan your workouts for achieving the desired fitness goals. Forerunner 15 also reminds the users to move when they remain inactive for more than an hour. However, you can reset this indicator by just walking for a few minutes.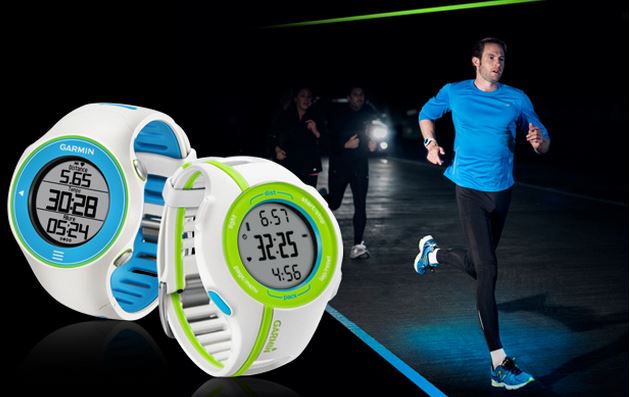 Motivation by the Mile
We have included an auto lap function in our Forerunner 15 for sustaining the user's motivation levels. Each time the users complete a mile; this auto lap function gives them a friendly beep with backlit screen to display the time taken to complete the lap. Once you finish your run, Forerunner 15 provides a complete summary of your performance, displaying the distance, time, average pace and total amount of calories burnt during the workout. Forerunner 15 also saves your personal records like your run with the fastest pace and longest distance covered so far.
Train Indoors or Out
During the outdoor runs, the GPS system of Forerunner 15 provides the most precise indicators of your running performance like distance, time and pace of your workout. However, Forerunner 15 seamlessly connects with an optional foot pod that attaches to your shoelaces for accurately measuring these parameters during your indoor runs or treadmill workouts.
Wear it All Day
The extended battery life of Forerunner 15 eliminates the need of recharging the battery every night. Once fully charged, the rechargeable battery of your Forerunner 15 relives you from hassles of recharging it for five weeks in watch/activity tracking mode. However, the battery lasts for 8 hours when you constantly use GPS during your outdoor runs and activities. With 5 ATM (50 meters) water rating, you don't need to remove your Forerunner 15 during the swim sessions not to talk about sweat or rain that harm other devices.
Get Connected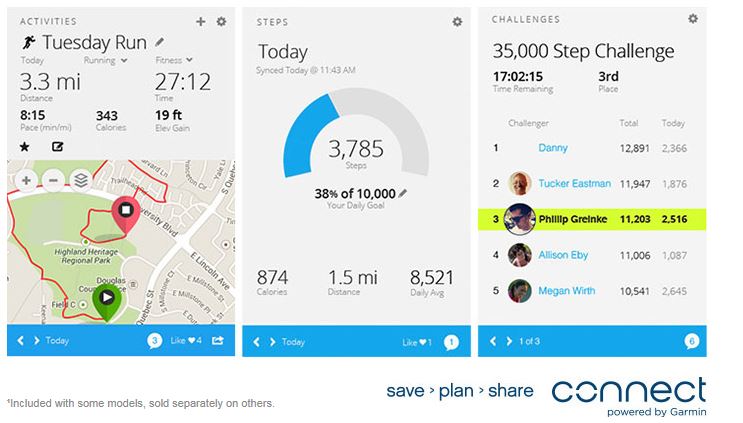 We are really proud of promoting our free online fitness community known as Garmin Connect. You can just connect to this community using your Mac® or PC and upload the performance data of your Forerunner 15 to see your running routes on the map, get more detailed analysis of your performance data and plan your workout for further improvements. You can also share your performance with the friends and participants of the community. Our website also allows you to participate in online challenges for earning virtual badges that have been designed to sustain your dedication to achieve fitness goals.