Garmin Forerunner 220 – A Personal Coach in Every Watch


Since 1989, the Garmin name has been synonymous with quality, craftsmanship and cutting edge technology in the world of GPS units, and the Forerunner 220 is one of the latest in the line of personal training offerings from this giant. Garmin has produced GPS for the army, fish finders for boaters, handheld GPS systems, cell phones and automotive GPS units. With the Forerunner series of products, Garmin continues to lead the way in affordable, stylish personal training smart watches for runners.


The Garmin Forerunner 220 was released in September of 2013 to an audience of runners who wanted more from their smart watches. Garmin delivered with a watch that not only keeps time and date in watch mode, but switches to training mode with an easy touch of a button. At only 40.7g (1.4 ounces), the Forerunner 220 is smaller and weighs less than other watches in its class and features a very thin watch face compared to its competitors. The display screen is customizable and only one inch in diameter but features a smooth, clear, colorized image of 180 pixels by 180. The Garmin Forerunner 220 has the waterproofing standards that Forerunner fans are accustomed to, and users can even swim with the watch on to a depth of 50 meters.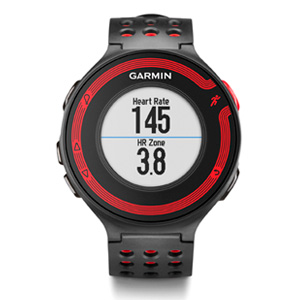 The Forerunner 220 features a long life lithium-ion battery that can be used for six weeks in stand-by or watch mode and up to ten hours of training and GPS usage. The charger is sturdier than older versions, connecting firmly to the watch to ensure complete charge. The watch features an extended backlight option in both stand-by mode as well as training mode, so keeping track of run dynamics at night is a snap.
The watch connects to Bluetooth and wireless technology, but is Garmin's first smart watch offering that does not include ANT+ weight scales. This might be a disappointment to those who bought the ANT+ weight scales to use with Garmin products. Bluetooth technology allows real time uploads to social media sites such as Facebook and twitter as well as streaming to Garmin Connect, Garmin's free online community, via mobile phone or Wi-Fi. Garmin Connect is an added bonus to Garmin customers, allowing data storage and sharing with other Garmin users. Garmin Connect provides online features such as awards, side by side comparisons with other users, and online challenges to make it a handy motivational tool. The site provides personalized training plans and workouts that can then be uploaded to the watch and is accessible with mobile phone after a do9wnloaded app is applied. Information from the Forerunner 220 can be manually uploaded via direct USB port from the watch as well. The Forerunner 220 is compatible with other running apps that use a .fit file format.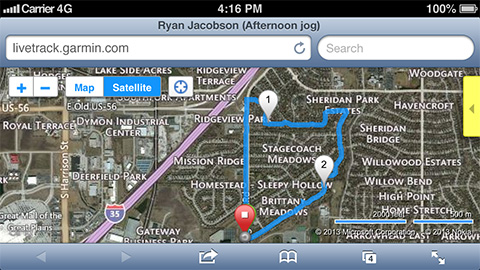 The Garmin Forerunner 220 allows data storage for up to 200 hours of workout activity, more than others in its class. It still does not allow maps to be uploaded in advance, but will track the path of the run with a high sensitivity GPS receiver. The Forerunner 220 keeps track of personal bests and records.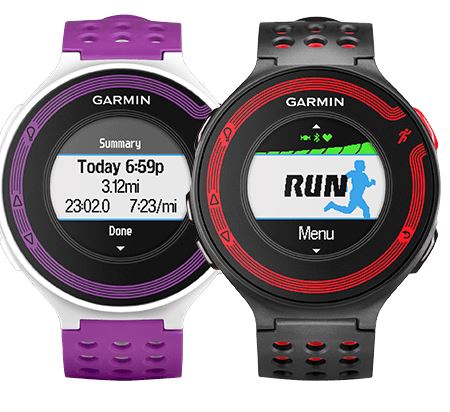 The Forerunner 220 watch itself features auto lap, which starts a new lap after a preset distance, and auto pause which allows the runner to pause the workout based on the speed of the run; the watch will resume data recording once the runner is in motion again. It will keep track of time and distance along the way and auto scroll through its screens to keep the runner advised of run stats.
Garmin Forerunner 220 features a built in speed and distance recorder, but any cardiac information will need to be gathered using the heart rate monitor. This is optional for this device. The heart rate monitor is a thin, comfortable chest band that connects wirelessly to the watch. This feature allows the runner to monitor cardiac output and works with the watch to alert when the target zone is reached. While the Garmin Forerunner 220 does not calculate the aerobic effects of the workout, it does feature calorie based consumption based on cardiac output. It does not calculate oxygen usage during the workout.
The Garmin Forerunner 220 is designed to work without a foot pod so it can be used indoors or when GPS is unavailable. Garmin's acceloremeter tracks distance and speed as well as pace. The Garmin Forerunner 220 can be set to alert if the pace of the run slows or speeds up over the course of the workout.
The basic Forerunner 220 comes with the watch itself, user's manual and charging cable for around $249.99. For an additional $50 ($299.99) the Garmin Forerunner 220 can be upgraded to a bundle that includes the heart monitor as well. The watch features two colors, a purple and white or black and red. Unlike some previous Forerunner offerings, the watch does not come in small (lady's size) and large; one size fits all.



Accessories include different sizes and styles of heart monitor straps, an AC adapter, additional charging cables, an external battery pack for extended training time, and a compatible foot pod.
The Garmin Forerunner 220 is a reliable and versatile smart watch for runners and is priced comparably to other watches in its class.