Garmin Forerunner® 110 Review



The Garmin Forerunner 110 is a super simple GPS training watch that helps you track your distance, time, and pace all while mapping out your route and working with ANT+ devices to monitor heart rate and other factors. It also utilizes Garmin Connect to help you review your runs, share your data with others, and plan your next training session.



The Forerunner 110 is possibly the simplest of the GPS tracking watches available. It has an easy two button start, so there's no time wasted on elaborate programming or trying to figure anything out. All you have to do is press start and be on your way, then let the watch do the rest of the work for you. The first time you start it up, you'll have to put in some personal data.
No matter your reason for running, whether it be in preparation for a marathon or just to improve your physical fitness, the best way to improve your times is to have accurate workout data. Without accurate data, you'll have no way of knowing if you've improved since last time, or if you need to keep pushing yourself harder. The Forerunner 110 uses GPS technology to quickly connect with satellites and keep careful records of where you run and how fast you get there, which allows it to calculate your pace.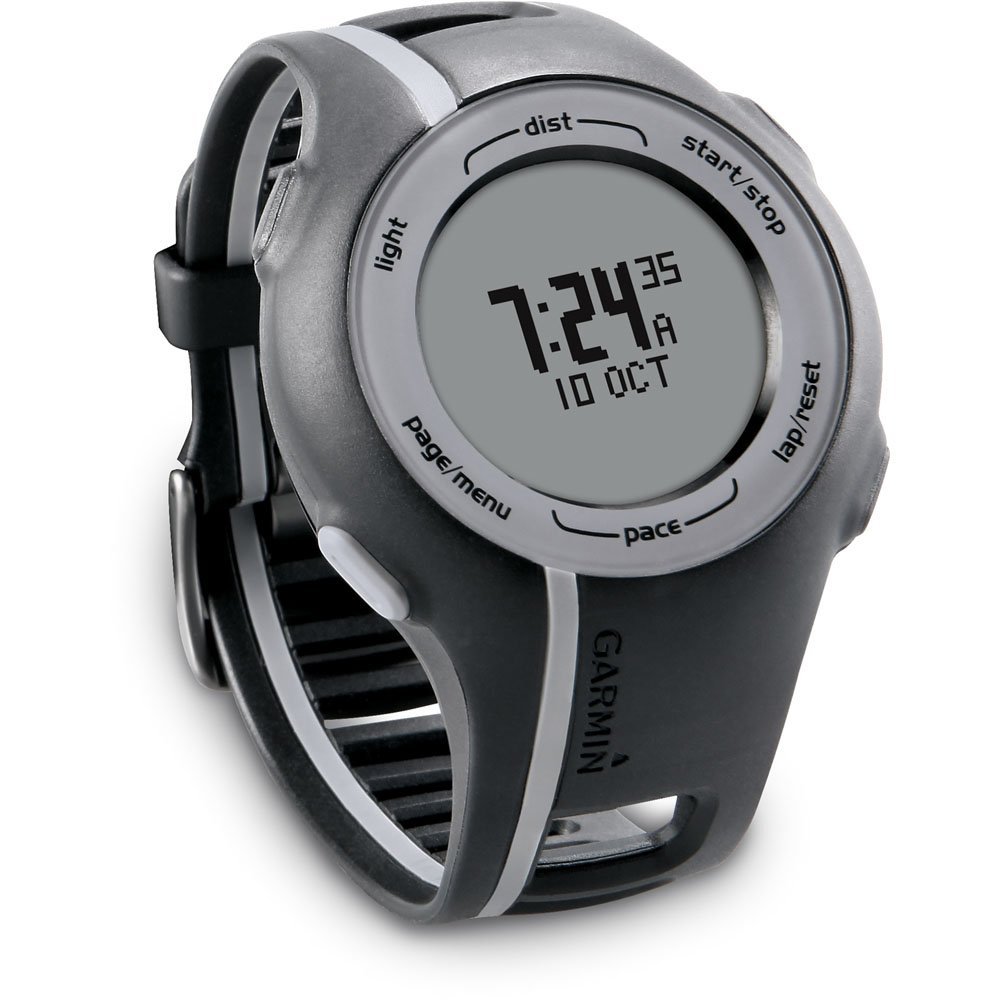 To review your previous data, you have two options. You can either check the data that is stored on the Forerunner 110, or you can upload all the information to Garmin Connect. Garmin Connect is an online community that allows you to see all of your running data in one place, share it with others, and get helpful tips and insights on how to improve your run.
There are a couple different versions of the Forerunner 110. The men's black and red as well as the women's grey and pink models come with a heart rate monitor that helps you keep track of your heart rate as you run. The black and gray Forerunner 110 doesn't come with its own heart rate monitor, however, you can purchase one separate that will connect with the 110, or use any ANT+ devise that you already own to track your heart rate as you run.
The Garmin Forerunner 110 also uses HotFix satellite prediction, one of the most advanced in GPS technology to find satellites quickly. It has a highly sensitive GPS receiver that ensures that your Forerunner 110 will stay locked onto satellites, even when you're running near trees or tall buildings. This is especially great news for those who like running on wooded trails or in big cities.



One of the other advantages to the Forerunner 110 is the long battery life. When fully charged, you can get up to 8 hours during your run, or up to 3 weeks when not in training mode. That means that you don't have to worry about losing any of your data because of a lack of charge. The Garmin Forerunner 110 easily charges its rechargeable lithium ion battery by connecting to a dock which plugs into your computer, so there's no need to mess with changing batteries.