Garmin Approach S6 Golf Watch Review
Garmin's most recent golf watch is the Approach S6, and it has a number of advanced training features that have never been seen before. These features, called SwingTempo, TempoTrainer, and SwingStrength will help a golfer improve the consistency and synchronization of their swing. The Garmin Approach S6 will soon become an essential tool for golfers whether they are at the driving range, out on the course, or in the clubhouse. The S6 is the first golf watch ever to include a full-color, high resolution touch screen that has complete CourseView maps that include things like Touch Targeting, GreenView, and PinPointer. And, like all of the previous Garmin golf watches, the S6 has over 30,000 international courses preloaded onto the watch for no extra cost.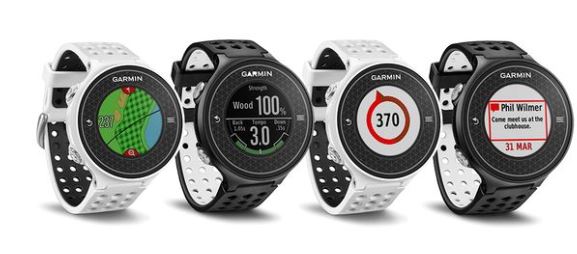 Dan Bartel, the Garmin vice president of worldwide sales said, "The Approach S6 provides golfers with performance and training data that has never been available in a wristwatch before. The new swing metrics, paired with the color CourseView maps, high-res touchscreen display and Smart Notifications make the S6 the first golf watch that packs the power of a handheld into a sleek form factor."
Here are some better explanations of these brand new features: SwingTempo, TempoTrainer, and SwingStrength. SwingTempo calculates the ratio of the golfer's backswing and downswing. After numerous studies of the relationship between the backswing and the downswing in successful golf swings, the conclusion was that 3:1 is the ideal ratio. This takes into account speed variations. Knowing your swing ratio is an important part of becoming a better golfer.
The Garmin Approach S6 doesn't just tell you your ratio and leave you to wonder what to do with it, however. That's where TempoTrainer comes in. The TempoTrainer program uses that 3:1 ratio to help you perfect your swing. Once this mode is activated, you will hear audible tones during your swing to help you get your swing perfectly synchronized and you tempo more precise.
One of the other awesome new features of the Approach S6 is SwingStrength. SwingStrength immediately calculates and displays your power percentage, which you can then use to make necessary adjustments depending on how far the ball fell from where you intended.
Another feature of the S6 is the Handicap Scoring. This feature will give you several different handicap scoring options for individual holes and the golfer's local handicap. It will also give you some index and slope methods.
Access to full-color course views complete with green shapes, water hazards, doglegs, and traps has been limited only to those with golf handhelds in the past, but it is now available to anyone who has the Garmin Approach S6, right on their wrist. You can find over 30,000 international courses laid out with the CourseView button. It's a great way to get a good idea of what to expect while you're still in the clubhouse, and then again when you're out on the course.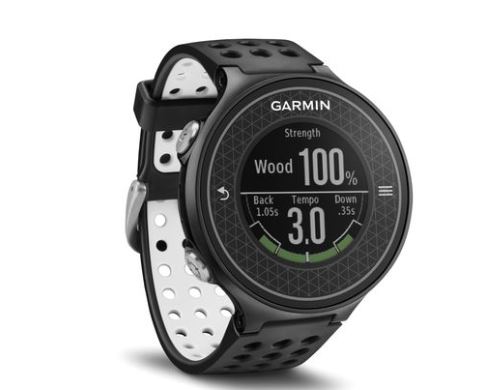 To get a more accurate look and feel of the greens, there's also GreenView. In GreenView, you get a close-up view of the green where you can see how it's laid out, including any water hazards, bunkers, or traps that may be nearby. Using the touch screen, you can drop a pin exactly where you are to get an accurate measurement of yardages.
PinPointer is another feature of the S6. This is the perfect assistant when you're taking a blind shot. PinPointer gives you an arrow pointing directly toward the green so you'll always know which way to go. This is great for those times that you find yourself deep in a trap or with trees blocking your view of the green.
The Touch Targeting feature is one of the most helpful for knowing exactly how far you are from the hole. This feature lets you use the touch screen to indicate your location on the course map, and it then tells you how many yards you are from the hole no matter where on that hole you are. It doesn't matter if you're there on the green, stuck in a hazard, or on the fairway. This is a great way to know how hard you have to hit the ball and when you add the PinPointer feature, you'll be able to know how far and in what direction you're going every time.
The S6 also has Smart Notification technology that uses Bluetooth to connect to any iPhone 4S or later and allows you to receive notifications from your smart phone on your watch. That way, you can leave your phone in your bag or on the cart and not have to worry about missing an important phone call, text message, or email. Although it's not yet compatible with Android operating systems, that update is expected to happen in summer of 2014.
Despite all these new programs and features, the Approach S6 is Garmin's thinnest and lightest golf watch ever, which means it won't slow you down. It also boasts an impressive battery life. Even in full GPS mode, it will last up to 10 hours. In regular watch mode, it can last up to 20 weeks. Then, all you have to do is recharge it and you'll be ready to go again.
<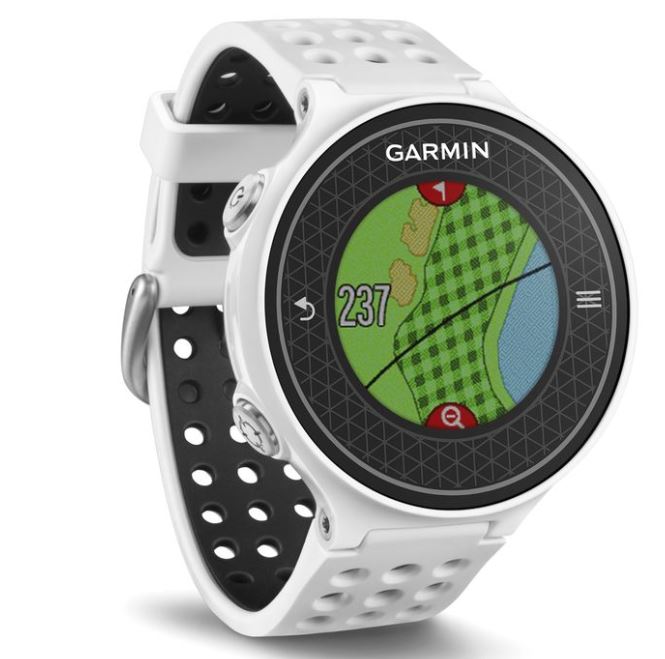 You can also use the Approach S6 as a scorecard, which makes it significantly easier to save, review, and share your scorecard with others by using Garmin Connect. Garmin connect is one of the best tools for golfers to keep track of their scores as well as their overall physical performance on the course. There are a surprising number of pieces of data collected and stored by your watch that you can then view on Garmin Connect to help you continually improve your game.
The Garmin Approach S6 is water resistant up to 50 meters, which means there's no need to be worried about your watch if you do get caught in the rain or run into problems involving water hazards. The Approach will be made available in Q3 of 2014 and will have a suggested retail price of $399.99. Garmin is introducing the Approach S6 as a part of their outdoor watch line, which has a number of watches devoted to enhancing the experiences of people who participate in a lot of outdoor activities. Some of the other outdoor sport and hobby watches in this line include features for such activities as hiking, dog training, geocaching, and hunting. Garmin also has VIRB action cameras to capture every moment.