If you lust after those frothy frozen coffee drinks at your local coffee shop, then this mochaccino recipe is for you. This easy homemade version uses low-fat milk, cocoa powder, coffee and just a little bit of maple syrup, so it has a fraction of the calories of a traditional version. (A small mocha frappuccino at Starbucks is 270 calories!) Coffee ice cubes, made by freezing coffee in an ice cube tray, make this drink frosty and give it a big, strong coffee flavor. Recipe by Joyce Hendley for EatingWell.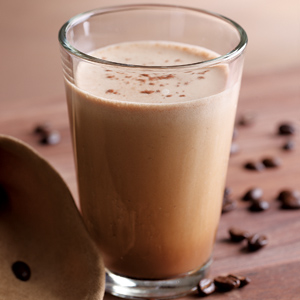 2 servings, about 1 1/3 cups each | Active Time: 10 minutes | Total Time: 4 hours 10 minutes (including 4 hours freezing time)
Ingredients
•1 cup double-strength brewed coffee or espresso (see Tip)
•1 cup low-fat milk
•2 tablespoons unsweetened natural cocoa powder (not Dutch-process), plus more for sprinkling
•2-3 tablespoons pure maple syrup
•1/8 teaspoon vanilla extract
•1-2 ice cubes, if needed
Preparation
1.Freeze coffee in an ice cube tray until firm, at least 4 hours or overnight.
2.Combine the frozen coffee cubes, milk, cocoa, maple syrup to taste and vanilla in a blender. Pulse until smooth, adding plain ice cubes if you want it thicker or a little water if you want it thinner. Divide between 2 glasses, dust with a little cocoa powder, if desired, and serve immediately.
Nutrition
Per serving : 127 Calories; 2 g Fat; 1 g Sat; 1 g Mono; 6 mg Cholesterol; 24 g Carbohydrates; 5 g Protein; 2 g Fiber; 73 mg Sodium; 444 mg Potassium
1 1/2 Carbohydrate Serving
Exchanges: 1/2 reduced fat milk, 1 carbohydrate (other)
Tips & Notes
•Make Ahead Tip: Equipment: Ice cube tray
•Tip: Double-strength coffee or espresso gives you the best coffee flavor when making blended or iced coffee drinks. If the coffee isn't strong enough, the drink will taste watered-down. To brew double-strength coffee, use twice the amount of grounds as you normally would for a regular cup of coffee. Espresso is strong enough brewed regularly.
From EatingWell: March/April 2011