Am I a "running snob" because themed runs don't appeal to me?
Here's a random question. Am I a "running snob" because themed runs don't appeal to me? Glow-in-the-dark runs, color runs, costume runs, etc… I've had a few people refer to me this way when I mention my personal dislike of these runs. What is a "running snob", anyway? The idea of having colored powder thrown at me while I'm trying to breathe, pace and focus is icky. And while I enjoy seeing others in costume, I'd never run in one because the discomfort would annoy me too much! Tulle, glitter, face paint, extra layers? … Yikes! When looking for local 5K's it seems that so many of them have these themes and I'm just not interested. They are increasing in popularity and that's fine, but it's getting harder to find non-themed events. Maybe I'm a buzz kill 🙁
not a snob at all! Just someone who knows what you like. I'll never run an ultra-marathon, but that doesn't make me, or them, snobs either
I like that running is becoming popular with these theme races…the more, the merrier!
I think the color runs sound stupid as well. I do spartan race but I race. No silly costume I don't do any theme runs either. So count me in the category of running snob. I'll take it and they can keep the gimmicks to themselves
No way not buzz kill! I would never run one.
I'm with you too 😉 Although I feel the "themed" runs are a great way to encourage new runners.
No it doesn't I don't really do 5ks just because I prefer 6 or more 😉 it's just a preference I think!!
I agree with you…..no interest either. Guess I am a snob as well then 😉
Personal preference. Most of them aren't timed, so if it gets people off the couch or out of the recliner and walking 3.1 miles, great! I've done two and the Color Run I would do again; Glow Run, never. Avoid them if you want to be timed and focus, or do them just for the fun of it.
It doesn't make you a snob at all. Those races are really more for fun and exercise (and making money!) anyway. If it gets someone into running or off the couch, awesome! If they aren't for you, no problem!
Nope–they don't appeal to me either. Nor do all of the obstacle runs either–I don't want to crawl through mud…etc. Though I don't mind a theme for the medal–like the Princess run in Disney….but the color, foam, etc.–I don't want to get sprayed with stuff! LOL
I've done plenty regular races but I just did my first run or dye with a group of friends, and it's just a fun time. Like a big party – I ran the whole thing but didn't even start my running app.
lol – no mud runs here – I draw the line at races where I have to duct tape my shoes to my feet or lose them!
They don't interest me either, but I know what you mean. I've had friends invite me to do the color run, ask for the reason I don't want to, then leave me feeling like they think I'm judging! Nope, I just don't want to breathe powder:). I DO think its cool the theme events seem to motivate some new runners!
I don't do color runs or mud runs, but I totally run in costume for all the Disney races. I don't go all out with costumes like many people though.
I think of a "running snob" as one of those people who say you're not a "real" runner unless you run at a certain pace, or if you choose to run in a running skirt, or some other silly disclaimer. Not liking themed runs is just an opinion, and you've got a right to it. 🙂
I did a few of those when I started running and it just wasn't fun! It seemed like a lot of people weren't serious runner, and were just there for the ambiance. Which is fine for them, but I had a hard time keeping my pace up while zig zagging around everyone! Plus, they are SO expensive and the money doesn't go to any charity so I don't feel good about spending so much on those types of races.
The closest to a theme one I like is the star wars weekend, rock n roll, and runners world half marathon
No way! Not a snob, as someone who enjoys them (to a degree… I'm not gonna break my leg for a mud run) I think that it's good for people to start out in the whole running thing or if someone might be over raced and need a change of scene. I don't go into it with a garmin or a pace goal. Mostly a goal to finish. I did an untimed 5k before a parade a couple weeks ago dressed as "Carl Fredricksen" from the movie Up. Do that every 5k? no way! But something to cut back and have a little fun with now and then…. and fun for the runners/crowds around me… if that isn't your thing, i think it's important to embrace that so you aren't disappointed if you try to make them work for you and you just hate it. It's good to know who you are and what you like. That doesn't make you a snob.
Not into those runs either. Running snobs to me are the runners who think they are better than the average runner because they are faster or have done more races. In reality – 13.1 or 26.2 is the same distance no matter how fast you do it!
I'm never been a fan of themed runs either, I've found a whole different vibe on "regular" runs vs themed ones. I guess I say to themed runs "bahumbug"
This is what got me started! I'll run anything now.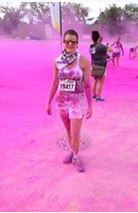 Sometimes you just gotta release your inner child and have fun! That's the way I see themed/color runs. Then you have your more serious timed runs. Need to have balance 🙂
I love seeing the costumes. It's very festive and makes me smile at others. I just can't wear them! I'd pull off a tulle skirt in ten seconds while cursing at it for making me itch. LOL
I'm considered the buzz kill in my group! I will barely put on a costume for any of the races, won't stop for photo ops on the course and am always worried about timing myself!
I run them occasionally only if they are charitable or non-profit, don't enjoy them either. They are good fundraisers and many people who are not normally runners join for fun. So your club just got bigger… mud runs are the worst, I love my shoes and clothes too much to ruin them LOL
Anytime is do runs like that I just do it for the fun of it and most times end up not running or running slow to enjoy it with my friends. Other type of races are awesome too just in a different way like looking for a pr…
You aren't a snob. We should be selective about where we spend our time & money. I will NEVER run in a tutu. There- I said it
If we weren't somewhat "picky" about what kinds of races we choose to do….we'd all be BROKE!!! LOL
I love obstacle races. I ran a Run or Dye and didn't like it at all. I won't do a color run, glow run, bubble run, or the "Ridiculous Obstacle Race" the one that has only inflatable bouncy castle type obstacles. Its just a personal thing for me. I can't do the costume thing either.
In Chicago, there is a Mike Ditka look-alike run which looks hilarious!
My first race was a color run and it was FUN. I didn't care about times or pace or a PR – although it was a PR since it was my first. It's all about what you like. As long as you don't belittle someone else because of their likes – then it's not snobbery.
Not into them at all! I "fun run" plenty when I'm training. I don't want to pay to run with stuff being thrown at me or costumes that are hot and itchy. Some people love them and that's great but I like my timed 5ks. Fun for me is trying to get PRs!
Personal preference. Same reason why there is chocolate and vanilla ice cream.
don't like it? don't do it. don't hate it tho 🙂 you're only a "snob" if you're putting others down
Different strokes for different folks. As long as no one is condescending or telling someone else their choice is unworthy. I like themed races and party races, but I just can't make myself do a mud run, even though I have friends who are exclusively tough mudder, spartan, obstacle racers. More power to them!
I needed to hear this– my friends automatically assume that because I run that I'd be interested in a color run or warrior dash or whatever and they get mad when I say no. Not to knock anyone who does them they're just not for me.
I am with you. But if these gimmicks get others out there and interested in running then yay for them. It's just not for me. To each their own
I only run in race that are for a cause, no theme runs for me.
I think it's a matter of opinion. I love doing these races because they get my kids excited for them, and that keeps them moving which keeps me happy. LOL. It doesn't make you a "snob". 🙂 Plus it's a change for me. I have found that I LOVE obstacle/ mud runs!!! Such a high!!! After losing 80+ pounds, this made me feel like I did something!!!
I try to stick with local races supporting charities myself.
I don't like any of those runs mostly because when I race I am very competitive and while I find racing "fun", I am still in it to be fast and hopefully get some bling:)
When I run with my kids, I'll run whatever they like. But I only race a couple of times a year. So for me, no color runs… Or themed runs.
I like all runs. The theme runs I think are good for people who don't want to be timed and just want to go out and have a good time. It's great for kids. I love seeing families doing these runs together. Whether they walk or run. They are not for everyone though. To each their own. I don't think it makes you a snob. Unless you are being condescending towards the people who do enjoy them.
Most people running these types of races are not running for PR. They are just there to hang out with friends while exercising at the same time.
I am fairly new to running and I just ran a colored race for my first one. I wanted to do something fun for my first time. It wasn't as bad as you think. They were good about throwing the color. That doesn't make you a snob though.
Not a snob. They aren't for everyone. I like to do them because it gives me a chance to do a 5k without feeling bad that I can't run. I get to participate but I'm not judged for being last. I've done both a color run and a glow in the dark one.
No I wouldn't want to try them if I was seriously running. The powder is cloying and makes it hard to see and breathe. But as a get off my butt and do it. It makes me feel good to complete them.
I have done 5 halfs and 1 full so I am slightly competitive, but, I did the Color Run last year with my 12 year old son – It was awesome just to enjoy the run and the atmosphere. No time. No pace. Just fun running.
Oh They're way too expensive for the gimmicks also…..
I like to do color runs with my girls. It's Fun for us. Lol
I agree with what others have said – it does not make you a snob to have a preference! But if you are condescending to those that like what you don't – you might be 😉 Personally the chance to do fun themed runs is what made me want to start running 🙂 My biggest goal is a Disney Princess Half – in costume 😛 (and I'm in my 30s, no kids – just the joy of it!)
Nope. I think you should do what ever races striker your fancy. I find trail races to be rather "plain" with no bells and whistles!
You're not a snob at all! I wonder if I am sometimes though lol. I've done 2 Color Runs and after the last one decided to never do one again. They aren't timed and I feel that anyone pushing a stroller and walking the entire thing then claims they ran a 5k. As a runner who trains and sweats and pushes my limits I dislike that people do it this way. Call me a snob I guess. :-\
I only do 10 milers, halfs, full, and ultras, so I don't think you are a Snob Runner. Someone once told me.."Run what you Run"
Oh, I'd never belittle anyone for doing a themed run or in costume. If it makes you happy then way to go! I'm the one that felt a bit belittled when I was chided for not being into them :-/
haha then that makes Them snobs lol
I like to do these with my kids. They are more of a fun family outing for us and it get's my kids interested in fitness. We usually do 1 a year. We did a color run and zombie run so far. We definitely don't do these for time and if I didn't have kids I would probably skip!! They get spendy!!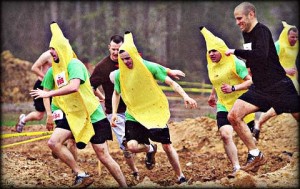 That's horrible that they would belittle you for that. True friends don't do that!!!! Like I said I love all the different races from themed 5Ks to tough mudders to one day doing the Great Wall of China Marathon
Seen some & fun run. Up to you like or not… Not matter. Went for color run last year & it was fun though
I'm not keen on them either. I've done a glow run-type run and it was fun, but not because of the glow. The course was nice and it was at night, which was different. I know lots of people who run them and have fun and I say GREAT! I'm not even opposed to running one, but with so many to choose from, they are not at the top of my list. So, you're either in poor or really great company 😉
Everyone has a right to their opinion. As long as you aren't putting others down because they happen to enjoy these theme races, I would label you a "snob." Personally I enjoy them every once in awhile because I think they're fun. What I don't like though is when people complain they arent "real" races. Which I don't understand, what is the definition of a "real" race? Does it have to be timed? I mean, I've done plenty of "races" that weren't officially timed and weren't themed. I don't know. To me, whatever gets you up and moving.
I have run several half marathons and one full and as well have a bit more of a competitive runners attitude. I recently did a colour run with my 10 year old and 4 year old. It was a 5k distance. My eldest ran off ahead of us and my 4 year old ran 3/4's of it. It was an amazing experience to run this with my 4 year old daughter. She also has a very competitive spirit and loved passing people. I found it difficult and frustrating as about 80% of people walked this event. It seemed that people were just there for the photo op honestly. I only hope that these type of gimmicky events ignite a passion for running in otherwise non runners or new runners!
I totally agree with you and your not a snob I just think it's personal preference and I think most do those kinds of races for fun and a lot of times as a family event. I have done the Color Run once with friends and again with my kids it was fun but I don't think I will do it again. As far as costume or accessories no way it's hard enough for me to run with regular clothes on.:)
I don't like those either but I just don't run them
You're not a snob, it just comes down to personal preference. I love mud/obstacle runs but the color runs don't really appeal to me that much. However, I do think they are a great start for beginners and kids and I would gladly do one to help someone like that get active and involved.
I have done a color run with my kids! I've done it for my kids, because it is a fun run! I do like races like that but I don't do the dress up! That would annoy me too! Glow in the dark/ color run…. Etc… All those races are just for fun and to get people moving! I usually only do those with my kids and if I'm not looking for time, just to have fun with them! A total preference! That doesn't make you a snob…
They are good for turning new people on to running. They are for fun. You don't always have to worry about pace, etc. Also, families can do them together. You don't have to like them.
I find the Run or Dye to be frustrating as a race. But, three times now it has gotten friends of mine to come out on a Saturday morning to share something I love to do, that I would not be able to share with them otherwise. It is time I get to spend with them that otherwise we would not have. So for that I love them. I am cool with themed races occasionally, if the theme and cause are fun. (I like the Ugly Sweater Run and various mud runs best. I don't consider RnR or Pig to be themed because even though they are, there isn't the gimmick and they are quite serious, but I like them too!)
Not a snob, just a person! Everyone has preferences. My wife loves color runs, but I'm not that interested in having powder thrown on my while I'm getting all hot and sweaty and trying to run. She likes trail runs, but more than I do. I do one trail race a year and that's enough. Both of us like to dress up as turkeys and do the local Turkey Trot run on Thanksgiving morning! Just do what you like and have fun!
Not at all. I don't like to dress up for runs either. I am there to run the course – perhaps not fast, but to run not to dress up and be bombarded by things.
To me, a race IS timed and measured. A race is more official, i.e., CARA certified. A "run" can be a race, or a fun run, or a color run, or a glow run, or whatever. They may not be a real race, but they are a real run. They are not always 5k, some are 2 mile, some are 2.91 miles. I have no idea what the official rules are but these are my personal guidelines
I'm a running snob too. The only 5k I'll do any more is the Susan G. Komen breast cancer one… And I walk that with friends and coworkers.
it's funny that you mention a local Turkey Trot. I swore to my husband last year I'd never do one of those because Thanksgiving is a sacred holiday of sitting on my ass and stuffing my face. HAHAHAHA. It's the one day of the year when calories mean nothing and I am Thankful for the opportunity to be a glutton with loved ones. However, I may have to try it this year dressed as a turkey. I think I could be down with that idea. Dress up as one then eat one 🙂
I'm so with you! I'm happy to see people get out there and if these runs are what spurs people on, then cool! But the first thing I thought when I saw a color run is "Is that stuff safe to breathe?" No tutus or inflatables for me….but to each his or her own!
I wouldn't say your'e a running snob….it's just your preference. For me, I like all runs…and if the fun runs get folks out who normally are not active then Even BETTER!! For me running is about health and fitness and encouraging others to find a way to enjoy fitness as well. So just as others might enjoy one way…you enjoy yours 🙂 I use the regular runs for intentions of doing my best and the other ones as activities that I can enjoy with others. I think that being active in any way is always fun! I dress up for fun runs but on regular race day I can't have anything extra on me…so I get what your're saying…..But to each their own 🙂
I'm along with you the Disney princess half marathon open this month for next year and I am registering for it I do plan on dressing up.
I understand what your saying. I don't think your a running snob. I signed up for a color run to do with a friend for fun. I like running non themed runs and rather not be distracted.
I'm not interested in color runs, but the glow one or one at night would be fun! I want to try a trail run and a mud run, but love anything from a 5k to a marathon! I love running skirts, shorts over tights and want to get a tutu… Maybe Wonder Woman tutu for surviving a stroke..lol. Anyway, you are only a snob if you are insulting someone else, not for enjoying what YOU love.
Don't get me wrong, I love running Disney. I just don't dress up
I am the same way. I do the themed runs for my kids. It is more fun for children and I feel it gets them involved in running and enjoying running! But me, I prefer to go out on a side road where it is quiet and just run until I can no longer run!
I'm the same way. Some friends of mine participate in a zombie run, where people dressed like zombies chase you on the trail, and I'm thinking that is MY WORST NIGHTMARE! 🙂 I also don't think I'll ever do a Warrior Dash or anything with obstacles. I have other friends who love those, but it just doesn't sound like fun to me. I can't get the image of elementary PE when I could never climb the rope.
I thought I would hate tulle too….I make mine full enough so that they never actually touch my legs. 🙂
I'm just saying, I did a 5k race a couple weekends ago where the course was certified 5k (I don't have a fancy watch or smartphone to measure the distance, but I did map it on the internet and it came out just past 3.1 miles) but it wasn't officially timed. So how does that make it not a race? Just personal guidelines I guess.
some runners need a "gimmick" and some one is getting rich
I too, don't do color, mud, Spartan, warrior or whatever the heck popular themed event is.
Not my thing, and I'm sure my facial expressions give away my disdain for them. That said, if that kind of event is the motivator to get someone to make a lifestyle change and get healthy and introduces them to our wonderful sport, who am I to discourage them from participating?
CONFESSION: I am signed up to do a Devil's Run…6.66K…at high noon…on the Summer Solstice…in Saudi Arabia. I'm only doing it for the T-Shirt! For the record, in my opinion, anytime you pin a number on, it's a race.
It's your run and your entry fee–do what you like! 🙂
I love them both. The themed runs I mostly do for fun and I think the reason so many are popping up is because it gets people that normally don't run interested in running.
I agree lol. Although the only fun run I do is the diva dash because it's what motivated me to run last year.
Life is too short to take everything seriously!! I do the fun runs to just HAVE FUN!! Not for time or pace… I do real races for time & pace….not the fun ones. Try one!!! Get some friends together & have a good time!!!
I've done a few. Spartan, Ragnar, etc., but I still prefer the regular-old race. It's my favorite. I also don't like the HUGE races. My most favorite are small town and smaller venues.
Most support wonderful causes so I'm all about them. But to each their own.
Your running is for you and you don't have to worry about who you please and who you don't. It doesn't make you a snob just because you don't follow the crowd.
I'm with you, I don't like the themed runs either. Not snobby, it's a matter of what appeals to you and what doesn't!
I just did the Color Run in Chicago this past weekend. I did NOT enjoy it. I had so much chalk dust in my lungs, ears, nose, etc. AND, the worst part about most of these is that they're not even timed. I think they have their place, to get new people interested in running, but I'm probably not going to do this type of thing again. I don't think that makes either of us "snobs". 😉
I like "themed runs" with my children. It has been the catalyst of encouragement for them to run. I will take that over pacing and time ANY DAY! I don't run them on my own.
I think if you make fun or put someone down because they like those race, yes that snobby, but if you just dislike them it is just a personal preference.
I did a mud run once, and it wasn't timed either. Just a bunch of women flopping around in the mud…not my idea of a race!
Most of them aren't timed… I'm not crazy about that.
Themed runs are awesome in my eyes. I spend most of my year training for the next 5k, half marathon, and now finally a full I'm running…these color runs, glow runs, mud runs, foam runs, etc are the times I turn off my Garmin and just run for FUN and not worry about the time!
I don't think you're a "running snob." Everyone has their own preferences. Now….if you formed a group with the sole purpose of disallowing those type of runs because you don't like them, then you'd be a "running snob." I'm not into getting dirty, did that enough in the Army. Kudos to those who do.
I don't usually do un-timed events either. The competition thing I like. But they are also dangerous, peeps who have never raced,
I am with you! I would rather have a regular old race!
I think everyone is different I did the color run and I broke out in a rash on my neck for months!!! Lol I won't be doing that again EVER!!! I think themed runs can be a fun way to break out of routine but they're not for everyone.
They aren't for me either and I'm far from an elite runner. I don't think there is anything wrong with not caring for them. I'm glad they exist for others though because they have helped convince a lot of people to get up off the couch and get healthy!
I have no interest in the "fun runs". I don't mean to put anyone else down for doing them, but if I'm going to pay $ for a race, I want to RUN!!!
I say to each their own. These races I don't do for competition we just go to have fun.
I used to be the same way, but Thanksgiving is a lot more fun when you start the day with a calorie deficit! Guilt-free pumpkin pie! 🙂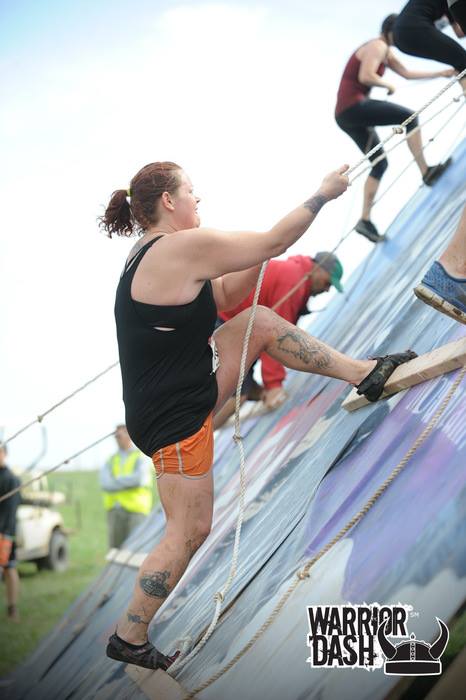 I like the themed and regular runs. I trained for 2nd marathon this past winter and the race itself was very hard and I had serious problems with my IT band at miles 22-26. I was miserable and hated running for about 2 days. Two weeks later my friend dragged me to a mud run. Old crappy shoes, no Garmin or timing chip, I had so much fun and died laughing the whole time. I remembered why I started running in the first place. Because it's fun!!
I read somewhere that these kinds of runs are geared to get people who don't run regularly, interested. I know that the few I have been to, a lot of people get a small group together and do it as something fun, and stick together. It's more so a social event for them. I could see why people wouldn't want to participate if they are a more "serious" runner. But, then again, could be a good way to get a medal if you are trying to win your age group 🙂
I only run in events that are about running myself, but to each his own 🙂
To each his own & all, but I agree! I don't need frills to run.
I tried The Color Run with my daughters. Thought I was at The Color WALK. My girls just wanted to roll around in colored dust.
Btw: I don't think that you not wanting to run in all those theme runs makes you a "running snob". Everyone enjoys running for different reasons and if somebody needs all that extra motivation rather it be colors being thrown on them or them, running in mud pits, or zombies chasing them then I'm all for it.
No contest. I won my age group and had a PR. My leg said "hotter than Kuwait" at the time my husband was deployed there and it was the heat of the summer. The race was called "salute a soldier" he ran it in Kuwait… I wore the same tutu to my marathon in November when my husband was home and standing waiting at the finish line with my sister and children
It all depends on what you like to do. Theme runs are becoming more popular. But it's not for the serious racer. I hear ya on the 'glow runs' not into the powder crap going all over me as I'm sweating and trying to breath. However I enjoy "zombie runs' I think there harder then the Spartan runs. Why? You have obstacles in both, but you also have people chasing you in 'zombie' runs. I like both, But at times i want to run. Not do obstacles, just run. Thats' what I train for. To run. your not a snob, just a woman looking to race. And that's ok!
Some of these runs you should try out. It's good to mix things up from time to time. Keeps you from getting bored. Try it, you may end up liking it. As good as it feels to train for a race and at the end of the race feel exhausted. Sometimes it's good to just try a run that is for fun and relax and take it in. You might surprise yourself and find a theme run fun.
I thought it was the other way around, I have friends who only run themed runs, no sweating nor too much of hard work for them, a run with no theme is too simple for their taste they say; they're the snobs…
Well I think it's whatever a person prefers. It's the same as choosing between Coke and Pepsi. I too take my running serious and never have cared for the frilly runs, but I did a color run about a Month ago. (with a persistent friend) and actually had a blast. It's not something I would do regularly but it's ok to have a little fun and by no way are you a slob
I do not like them personally- however, if something is going to encourage people to get active- I'm all for it!!!!
I'm with you 100%!! Climbing over walls, getting electric shocks, or being spray painted does not appeal to me, nor does running through mud, water, or climbing through tires. I just like to run… Period. No apology, I like to run.
Can you just run them without dressing up? I'm sure you'll get some looks but isn't the idea to keep going? Or am I just way off!
I agree with what you posted & have struggled with this. It seems that the actual race is an after-thought to the the adult Disneyland's so many road races have become. For this of us who are purists, triathlons seem to be the way to go. Serious competitors who've trained hard & focused on doing their best. I think you can have this at road races, but it isn 't a given.
I'm not a fan of theme runs, but as a nurse who sees the abysmal state of our nation's health, I'm all for them if they get Mr. Average Joe "Diabetes/Hypertension/Obesity" America off his butt!!! 🙂
i agree. I find that marathons and most halves are okay. I do not care what other people do, but for me, I train HARD and I want to compete. Even if I don't Win. I'm attempting to qualify for Boston in September and I'm having a hard time finding a shorter race to do as part of my training that is not a theme. :/
I love tris and am excited to get back to them after my kiddos get older and I can squeeze more training in.
I train for the "focused" races of which you speak. I run themed races with friends, family and co-workers, anyone I hope I can influence towards catching the running bug. And they are both fun, though one requires alot more discipline and determination!
These races aren't for those looking to get PR's… They are for "fun". There are often too many non-runners to do that. I enjoy the thrill of competition – though I'll never win a race… But for me sometimes these races bring out the fun of running/walking instead of feeling like I have to be running FOR something all of the time. Everyone runs for their own reasons. Plus these races are sometimes cheaper …ha!
A few weeks ago the tiny little town near us had their annual celebration day and 5K run, in which we had never participated. We decided on a whim to go over and run, as there was no entry fee but everybody got a t-shirt. Turns out there was no timing of any sort, no age groups, and the course was barely measured, let alone certified. My GPS said it was "pretty close" to a 5K 🙂 The first three people across the finish line, of any age, were the winners. We had a blast. Came in way back in the pack but didn't care. We got our t-shirts, brought a picnic supper, stayed for some homegrown country music, and ended the evening with fireworks over their little historic courthouse. Sometimes we take ourselves too seriously.
They don't thrill me either, to each their own. I did a color run and it was just annoying and you kept having to stop.
that's been my experience with half & full races. A race is a race! I'm not going to win, but I train & want to compete. Post-race is where I want to cut loose, enjoy & have a great time. Good luck with qualifying for Boston. (So am I.) Check out Runners' World mag for BQ races that best fit your schedule & course preferences.
I'm running grand lake (In Ohio) the end of September…. Soooo nervous and excited!!!
I have no desire to have color thrown at me while I run. Nor do I care to run through the mud. I'll run in a tutu any day. But I hope that doesn't make me a snob either 🙂
I so agree with your post! I guess I am a running snob 😉 I always said the exact same thing, about races. Good for them , but not for me!
I don't think anyone is a snob. Individual preference but this is why I don't mind having color thrown in my face while doing something I enjoy any way. As a cancer survivor this is near and dear to my heart.
Serious races & themed races both have their place. I personally do both. You just have to realize the themed ones are for fun, enjoy the experience and not worry about time and pace. The serious runners that show up to these events & then get upset when people are in their way, taking pics, etc. should stick to serious races. And if you sign up for a serious race & plan on lolly gagging stick the back & to the side. It goes both ways. But a run is a run and I'm all for having fun and getting people off their butts.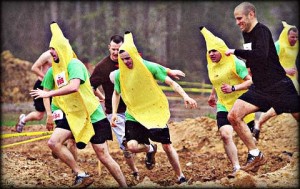 I would call a town celebration that had no entry fee, timing, & a non-measured course an unsupported community short group fun run. If it had been called anything other than a 5k, I wonder if the turnout would have been as good. We all can have a great time at an event like that, but clearly it was anything but a true race. Even the Zombie race people are down with that !
I'm with you. I want to run races that don't have colorful balloons and such as well as paying people to throw stuff at me? I have kids I am pretty sure they would do it for free….I guess I am a snob also because I only like running the "clean" real runs…. #runnersnob..Also I don't do mud runs because when I was in the military I had to crawl through mud and barb wire and it was a matter of life and death. Don't chose to relive that
It was called a run, not a race, but the point was that it was for fun. We certainly didn't sign up with a PR in mind or anything. In my opinion anything we can do to encourage the idea of exercise, and particularly running, as something fun and entertaining is a plus. If we are going to change our sedentary ways as a society, we don't want to foster the idea that "running is just for athletes," i.e., a bunch of health fanatics who do nothing but marathons each weekend. Some people run for PR's, others for the social support, still others just to dress up and/or get dirty. As long as we're all running, we're all benefiting our health.
I am a total running snob too!!! Ugh I think it's silly-I am scared of zombies-I hate people throwing stuff at me when I am sweaty! No I am a running snob!! BUT WITH THIS IN MIND- the color run was something that my 12 yr old daughter was willing to do and had so much fun she wants to start running more like mommy does!!! So – bring them on – just don't make me do them!!!
I used to feel this way until I ran the Color Run. It was kinda nice to not be timed and just have fun. I will be doing it again next year. I think its a mind set thing. Don't get me wrong I do like serious races that are timed and when I finish I feel good beating my PR and getting some nice bling.
You said it was called a. 5k. Running & racing can be two different things. Who isn't for exercise? I see too many people at all sort of events who are the classic weekend warriors. They try to rectify poor lifestyle choices then get hurt and/or injured but can brag at the water cooker on Monday they "competed." How about living a cleaner, healthier lifestyle first, then start a sensible exercise program.
Maybe a running purist? Nothing wrong with it.
That's why it's called fun run, lol…for those who do it for fun
Running purist. Like that. I think they are still races, bit just not traditional. They are meant to be fun. That is why most of them are only 5k. They are attractive to beginners and some socially driven.runners. when they have a color run half marathon, maybe I'll. ….Naaaaah.
I'm the same, I am a snob, I run to try to go as fastas I can, not to get colored 😀
I've never run one and have no intention to run one. Just not interested.
I don't do any theme runs. I HATE THEM! Do you consider Crazy 8s up your way a theme run? I ran it last year and it was a TON of fun. A TON of people, but a TON of fun! 🙂 I hate theme runs because there is 1 – tooooooo many people who aren't interested in running really, 2 – too messy (especially the color runs), 3 – I am very competitive against myself and HAVE to have my run timed. PS – I am in Oak Ridge (NW of Knoxville)
I did my first color run last weekend. I normally don't do them but my wife who is not able to run because of knee problems works for the place that was hosting it. We did it for fun. I walked with her and a group of friends. Although it drove me crazy that I wasn't running it, it was just for fun. The most amazing part was that over 1000 people participated in it. And I would say that 75% walked. But the way I see it 750 people got out on a Saturday morning and walked 3.1 miles that would have normally just been sitting at home watching TV. Normally at local 5ks you are lucky to see 200 people. If the gimmick of the race gets people moving towards a healthier lifestyle keep the "races" going. That being said I have a lot of serious running friends that dress up for races all the time, and they occasionally give me a hard time because just refuse to dress up. Just not my thing.
What really drives me crazy at any race is when walkers line up at the front and you are having to dodge people within the first quarter mile.
I just look at that kind of run as fun and not competition. I prefer a regular race, but they're a nice change of pace. Especially if you have little kids that show an interest in running. Great runs for them to start out with.
Thanks for all of the input. I'm glad that the gimmicky stuff has been such a catalyst for so many people. For the record, I've never put anyone down for enjoying these races. I was referred to as a "running snob" when I mentioned not being interested in color runs. It wasn't about time or athleticism. I just REALLY don't want people throwing sh*t at me when I'm running unless it's water on a hot day. For me, running is most fun without the added stuff. I enjoy the rawness of it. Don't get me wrong. I'm no elite athlete, but I love the challenge of a timed running event, even if I come in last. It pushes me and gives me a difficult goal to reach toward. Having that goal is invigorating to me. It doesn't make me feel like I'm taking myself too seriously.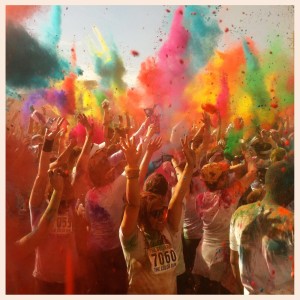 I haven't been running long enough to know for sure, but I've had many of the same thoughts about them and agree with you.
I've never seen Men, Ryan, Kara, Shelane, or anyone like that ever do one. No one seems to mind.
I do not think of Crazy 8's as a themed run. It's an 8K race that I've heard can be extremely competitive. Doesn't it hold a record as the fastest 8K road race in the world, or some crazy statistic? A handful of elites compete in that race. Personally, I don't want to do it because it's in Kingsport. The air downtown makes me sick between the paper plant, the chemical plant and the wastewater treatment plant. I literally get nauseated. I ran my first Half down there and will never do that one again. I hacked up brown crap for three days. Yuck! And I know exactly where Oak Ridge is 🙂 Aside from my living there briefly in the 90's, my husband has family in Kingston and Knoxville. I like that area.
I volunteered to staff a color run up here because to me it's too ridiculous to partake in. i will run one race in a tutu in support of the woman in san diego who was called out earlier in the year for wearing one.
that's terrible the way they made fun of her. I would never do that. Running a marathon with brain cancer on chemotherapy?!!! She's an inspiration and can wear whatever she damn well wishes to wear at a race! I think some may have taken my original post the wrong way. I wasn't putting anyone down. I was offended and confused by being referred to as a snob because I thought running in tulle would make ME uncomfortable. I love seeing others wearing it. Makes me smile!
i didn't take it that way from you at all. i'm all for people doing whatever makes them happy and doesn't hurt others. running in a tutu definitely isn't my norm, but with October being breast cancer awareness month and having family members fighting that good fight, i'm in. i'll be wearing my pink compressing sleeves too. if people make fun of me oh well. i wear my relay for life shirt to races, most people thank me for that reminder that we're a hell of a lot better off than a lot of others
I did participate in a run last summer called the "Wet and Wild" where they threw water balloons at you and shot water guns. It was a hot day and I knew I'd get wet but still ran hard! The only bad thing I could say about that one was the younger kids, about 10 or so, threw balloons hard that hit us in the crotch. Didn't feel good! Overall though it was a fun race for a good cause but I wouldn't do it again. I like to challenge myself. Everyone running can beat me as long as I don't give up and improve myself! Adam, one of our friends ran the Arbuckle to Ardmore half marathon with a tutu on to support the girl. He had a great time wearing it and even had a fast time!
I'm right there with you. I could not imagine doing a color run, I would be miserable having stuff thrown at me. I love the Disney races and marvel at the people that can run in costume as I know I couldn't. I know many people that love the color run, glow run, etc and I think it's great, whatever gets you moving. It's just so not for me.
Nothing says you have to go to themed runs. Many find it fun and dont take it seriously. The snob part only comes in if you make others feel silly for going.
Snob- somebody who looks down on others: an admirer and cultivator of people with high social status who disdains those considered inferior somebody who feels superior: somebody who disdains people considered to have inferior knowledge or tastes
You are not the only one. I dislike themed runs too.
I don't think it makes you a snob. I'm like you- I like running timed events just for the sake of running without all the other stuff. I have no interest in tough mudders or triathlons, either! I just want to run! That said, I think it's awesome that themed runs appeal to people who might never consider running a road race and gets them off the couch. Whatever works to get people out there!!
I am with you. I don't see paying to have people throw stuff at me or risk ruining my sneaks. But I am very supportive of those who do it…that's what makes the world go round. I try to be open minded about everything…of course, If you're too open minded your brains will fall out. 🙂
I too am a "running snob" by this definition. I personally run for speed, I love running, but I'm also competitive, I love seeing my times improve and I don't like being covered in wet or powdery colored stuff. I've done them (mainly with my kids) but it's not my cup of tea. To each their own I say. You gotta make running your thing, who cares what others think?
I don't think you're a snob. It's personal preference. None of that stuff appeals to me either, but I think it's cool that other people are into it.
Not a snob – nothing snobby about just liking the run without all the gimmicks.
if you are, then I am a running snob too….and frankly, i don't really care…I'm happy just running for pleasure,my own satisfaction…i mean,isn't that the whole point of doing it?… 😉 #HappyRunning
You're not a snob… You are a purist. You run for the pure pleasure of running. Some people like the party on legs option. I like both. Think of it this way, when you go to a regular race you will have more like-minded people to run with. Your races will probably have fewer party people.
I agree with you. I don't mind that there are these other types of runs, but I don't do them.
Not a snob I don't like them either. I'm competitive I don't do runs for just fun. The fun runs are my training.