Garmin FR70 Running Watch with Heart-Rate Monitor Review



Garmin FR70 – Fitness Watch for monitoring performance during indoor or outdoor activities
Overview
Monitor time, heart rate and the amount of calories burnt
Monitor distance and pace with foot pod (optional)
Monitor speed and other cycling stats with cadence sensor (optional)
Connect to Garmin Connect™ and wirelessly upload your data
Plan, review or share your experience with friends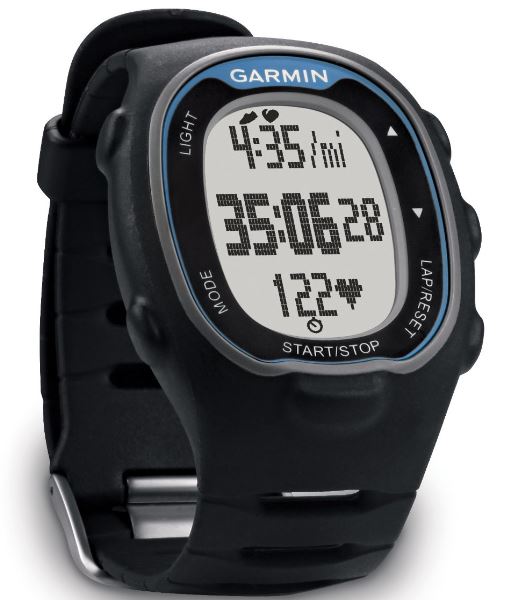 Garmin FR70 is a perfectly designed fitness watch that includes several features for tracking your time, monitoring heart rate and the amount of calories burnt. The workout tools of FR70 keep you motivated so that your fitness goals are quickly accomplished. The color and fresh look of its design, including the comfortable wristband make it a wearable watch.
Train Indoors or Out
Whether you are training in a gym or pushing your limits on the road, FR70 is equally effective in both these conditions for monitoring heart rate, total time spent on any activity and the amount of calories burnt. In fact, FR70 records everything related to your workout. Wireless ANT+™ technology is the key feature of FR70 that empowers it to connect to any device that incorporates ANT+™ technology. The heart-rate monitor and optional devices like foot pod wirelessly connect to FR70 using ANT+™ technology.
Monitor Your Health
When used with Tanita BC-1000 body composition scale, FR70 transforms into an ideal health monitoring system. It allows you to monitor your body compositions like total weight, body water, body fat and 6 other useful body compositions. When FR70 is within the connection range of your computer, the readings and stored data are automatically uploaded to Garmin Connect™ for more detailed analysis and planning.
Listen to Your Heart
The capability of monitoring heart rate significantly improves the usefulness of FR70s in monitoring health parameters during the workout, particularly for hardcore athletes and people suffering from heart-related issues. FR70 displays the heart rate zone by continuously monitoring the heart beats to keep you safe, but you can also push to your limits and gradually extend its horizons.
Go for Distance
The seamless ANT+ connection with the optional foot pod makes FR70 your perfect running partner, allowing you to track your distance and pace in a hassle-free manner. FR70 is designed to work in both indoor as well as the outdoor environment. The advanced accelerometer technology incorporated in the foot pod ensure highly accurate recording of your movements so that FR70 gets precise data about your distance and the current pace during the run.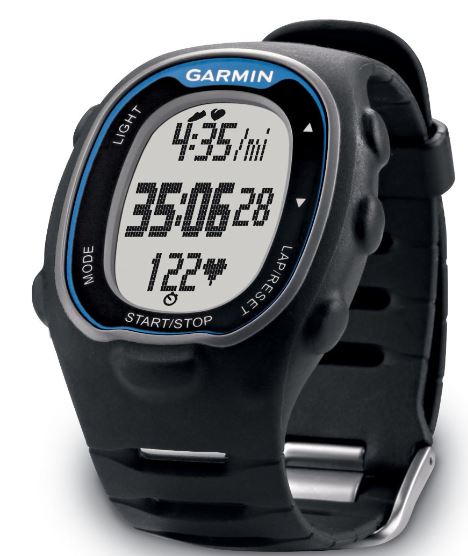 Cross-train
The optional speed/cadence sensor transforms FR70 into the most efficient tracking system for cycling workouts. The speed/cadence sensor is attached to your bike and wirelessly connects to your FR70 for accurately measuring the pedaling cadence and resulting speed during your ride. In combination with speed/cadence sensor FR70 allows you to evaluate your cycling performance while training in the indoor tracks as the sensor is used for measuring the pedaling cadence and speed of your rear wheel.
Sync and Share
When you are done with your workouts, FR70 allows you to automatically upload the data to Garmin Connect. When wireless connection to a nearby computer is accessible, FR70 automatically uploads the data to Garmin Connect. There is no need for cables or attaching the device to your computer for sharing your performance data with your friends or online community. You have to just analyze the data for designing more effective workouts and storing it for future reference.
Garmin FR 70 Specs
Physical dimensions
Blue: 1.5″ x 2.2″ x 0.5″ (3.8 x 5.5 x 1.3 cm);
Pink: 1.5″ x 2.0″ x 0.5″ (3.8 x 5.0 x 1.3 cm)
Display size, WxH: 0.8″ x 1.1″ (2.0 x 2.8 cm)
Display resolution, WxH: 31 x 56 pixels
Touchscreen: No
Weight: Blue: 1.6 oz (45 g); Pink: 1.3 oz (38 g)
Battery: coin cell battery (CR2032)
Battery life: 1 year
Water rating: 5 ATM
GPS-enabled: No
High-sensitivity receiver: No
Maps & Memory:
Basemap: No
Ability to add maps: No
Accepts data cards: no
History: 100 laps or up to 20 hours of data
Waypoints/favorites/locations: 0 (sport watch is not GPS-enabled)
Routes: 0 (sport watch is not GPS-enabled)
Features & Benefits:
Heart rate monitor: Yes
Bike speed/cadence sensor: Yes (optional)
Foot pod: Yes (optional)
Automatic sync (automatically transfers data to your computer): Yes
Garmin Connect™ compatible (online community where you analyze, categorize and share data): Yes
Virtual Partner® (train against a digital person): Yes
Virtual Racer™ (compete against other activities): No
Courses (compete against previous activities): No
Auto Pause® (pauses and resumes timer based on speed): Yes (with optional foot pod)
Auto Lap® (automatically starts a new lap): Yes (with optional foot pod)
Auto Scroll (cycles through data pages during workout): Yes
Multi-sport (changes sport mode with a press of a button): No
Advanced workouts (create custom, goal-oriented workouts): No
Pace alert (triggers alarm if you vary from preset pace): Yes (with optional foot pod)
Time/distance alert (triggers alarm when you reach goal): Yes (with optional foot pod)
Vibration alert: (choose between alert tones and/or vibration alert): No
Interval training (set up exercise and rest intervals): Yes
Heart rate-based calorie computation: Yes
Training Effect (measures impact of an activity on your aerobic fitness): No
Customizable screen(s): Yes
Barometric altimeter: No
Unit-to-unit transfer (shares data wirelessly with similar units): No
Power meter compatible (displays power data from compatible 3rd party ANT+™-enabled power meters): No
Temperature (displays and records temperature while you ride): No
Sport watch: Yes
Additional:
Watch functions include time of day (12/24h), dual time zone, calendar (day/date), daily alarm.
Garmin Connect and Garmin Training Center are compatible with Windows® XP or newer and Intel-based Mac running OS 10.4.11 or later with Safari.
In the Box
Garmin FR70 Blue Watch
FR70
Heart rate monitor
USB ANT Stick™
Quickstart Guide
Garmin FR70 Pink Watch
FR70
Heart rate monitor
USB ANT Stick™
Quickstart Guide