Garmin Forerunner 310XT Overview – GPS Enabled Sport Watch for Land and Water
Specifically designed for Multisport Athletes with instant shifting between the run, swim and bike modes
Tracks your position, distance, finishing time and the current pace of your run on land
Tracks covered distance, time and average speed of your swim in water
Fully water resistant up to 50 meters with Clear Display
Long battery life of 20 hours (lithium-ion battery)
ANT+ wireless technology for seamlessly pairing with several accessories like cadence and power meters
HotFix® satellite prediction technology with mark location and back to start features
Automatic uploading of performance data to Garmin Connect™
Works as the Virtual Partner for designing courses, planning workouts and setting targets
Comes with a one-year limited warranty
Forerunner 310XT has been specifically designed for professional athletes and sporting enthusiasts who want to monitor their performance during swims and other water sports. The capacity to resist water up to fifty meters (164 ft) make it the most indispensable training instrumental for triathletes. Despite its sleek design and flexible wristband, Forerunner 310XT is a very sturdy GPS with extended battery life of 20 hours. You can wear this training watch while swimming in a pool or lake and track your swim performance. This multisport device can instantly change its gears to shift from swim to land or bike mode and use GPS to record total distance, current pace, heart rate and other performance data. Just like our other premium sport watches, it wirelessly connects to your computer to upload performance data to Garmin Connect.
Track Your Swim
The unique swim mode of Forerunner 310XT allows you to track the time of your swim in a pool or lake. Although, the GPS signal is not supposed to track total distance while swimming, we updated our software to precisely measure your swim distance and average speed. You have to just enable the swim mode of your 310XT, and it starts tracking your swim with the press of the start button. Once you reach the finishing point and press the lap button, Forerunner 310XT displays the estimated distance of your swim and average speed by processing time and GPS data of your swimming.
Effortless Transition
Garmin Forerunner 310XT features effortless transition between the run, swim and bike modes. In fact, 310XT has been designed for multisport activities and therefore, you can track your performance during different activities of the workout, and even log the transition time between these activities to analyze your overall performance. The optional quick release and bike mounts provide hassle-free shifting from wrist to bike.
Forerunner 310XT features the most sophisticated technologies available in our premium GPS Enabled sport watches. Your Forerunner 310XT empowers you to track any performance variable like total distance, current pace and heart rate. You can also record power data and several other performance dynamics by using third party power meters or other ANT+™ compatible instruments. Forerunner 310XT incorporates our innovative ANT+ wireless technology that facilitates seamless pairing with optional instruments like cadence sensor, foot pod and heart-rate monitor.
These optional instruments add value to your GPS training watch. For example, the optional heart-rate monitor bundle allows you to monitor your heart rate in beats per minute and provides estimated consumption of calories during your workout. The heart rate zones on our heart-rate monitor can be very useful for improving your performance and exercising within your comfortable zone. However, heart rate monitoring is not available during swimming. Only soft strap heart-rate monitor accessory is water resistant, but even these waterproof heart rate monitoring accessories stop tracking, storing or communicating heart rate data to the watch while you are in the water.
Forerunner 310XT also features HotFix® satellite prediction technology and high-sensitivity GPS receiver to ensure that your sport watch is quickly locked to the satellite signals, and you are not bothered by the tree cover or tall buildings during your run.
Monitor Your Health
Forerunner 310XT also provides health monitoring features. In combination with Tanita BC-1000 body composition scale, your forerunner 310XT can provide measurements for weight, body fat, body water and six other useful health measurements. These health readings are stored on your Forerunner 310XT and uploaded to Garmin Connect when in range of your computer.
Run, Sync, Store and Share
Once you have tracked your performance during the workout, our innovative ANT+ wireless technology ensures seamless uploading of your performance data to Garmin Connect for more detailed analysis, planning and sharing with the community. Forerunner 310XT completely eliminates the need to use cables or hookups for connecting the device to your computer. It automatically connects and uploads the data to Garmin Connect when your computer is in range. You get free access to our social media platform where you can analyze, categorize, plan and share your performance data with the community. You can also plan your workouts on your computer and send it to your 310XT or use our optional Garmin Training Center software.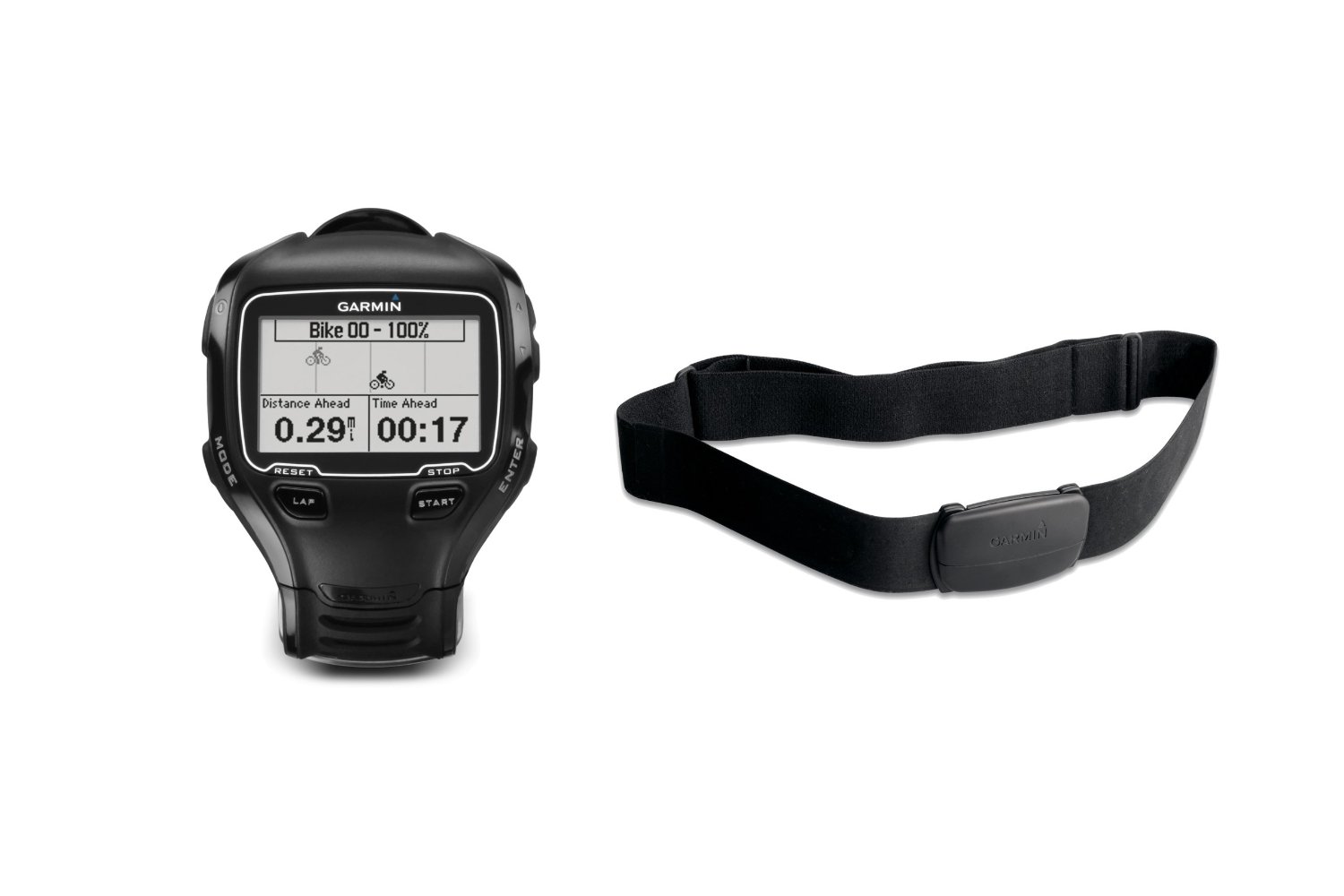 What's in the Box
Forerunner 310XT
USB ANT stick
AC charger
Charging clip
Owner's manual
Quick reference guide
And our premium heart-rate monitor is also included with some models.
Specs: Physical & Performance:
Physical dimensions 2.1″ x 2.2″ x 0.8″ (5.4 x 5.6 x 1.9 cm)
Display size, WxH 1.3″ x 0.8″ (3.3 x 2.0 cm)
Display resolution, WxH 160 x 100 pixels
Touchscreen No
Weight 2.5 oz (72 g)
Battery rechargeable lithium-ion
Battery life up to 20 hours
Water rating 5 ATM
GPS-enabled Yes
High-sensitivity receiver Yes
Maps & Memory:
Basemap No
Ability to add maps No
Accepts data cards no
History 1000 laps
Waypoints/favorites/locations 100
Routes 0
Features & Benefits:
Heart rate monitor Yes (Some versions)
Bike speed/cadence sensor Yes (optional)
Foot pod Yes (optional)
Automatic sync (automatically transfers data to your computer) Yes
Garmin Connect™ compatible (online community where you analyze, categorize and share data) Yes
Virtual Partner® (train against a digital person) Yes
Virtual Racer™ (compete against other activities) No
Courses (compete against previous activities) Yes
Auto Pause® (pauses and resumes timer based on speed) Yes
Auto Lap® (automatically starts a new lap) Yes
Auto Scroll (cycles through data pages during workout) Yes
Multi-sport (changes sport mode with a press of a button) Yes
Advanced workouts (create custom, goal-oriented workouts) Yes
Pace alert (triggers alarm if you vary from preset pace) Yes (for advanced workouts only)
Time/distance alert (triggers alarm when you reach goal) Yes
Vibration alert: (choose between alert tones and/or vibration alert) Yes
Interval training (set up exercise and rest intervals) Yes
Heart rate-based calorie computation Yes
Training Effect (measures impact of an activity on your aerobic fitness) No
Customizable screen(s) Yes
Barometric altimeter No
Unit-to-unit transfer (shares data wirelessly with similar units) No
Power meter compatible (displays power data from compatible 3rd party ANT+™-enabled power meters) Yes (records data approx. 1 per second)
Temperature (displays and records temperature while you ride) No
Sport watch No
Additional
Garmin Connect is compatible with Windows® XP or newer and PowerPC and Intel-based Mac running OS 10.4 or later with Safari.