Favorite Run Facebook Giveaway – Slow and Steady Wins the Race Necklace
We are giving away TWO of these All Sterling Silver "Slow and Steady Wins The Race" Necklaces!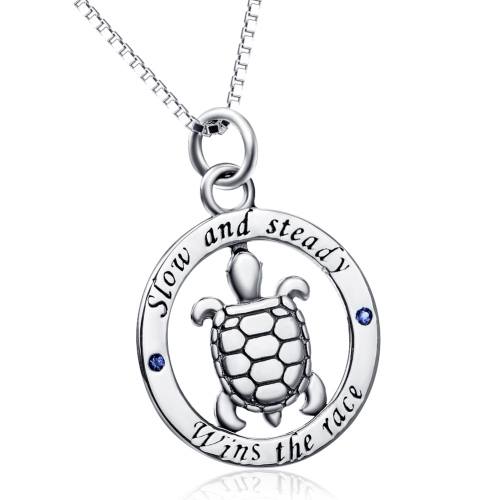 How to Enter:
1) Be sure to "like" Favorite Run page, if you don't already.
2) "Like" this post
3) Tag someone who would want to win this necklace as a comment on this post.
4) Tell us how inspirational running jewelry can get you motivated to run more!
Winners will be randomly selected and announced on Monday, 6/15/15
Check this newest design here:
http://favoriterunshop.com/…/all-sterling-silver-slow-and-…/
==============================
"I need the slow and steady reminder daily, trying to do too much too fast. I'm running my very first 5k on July 11 and this would be an amazing reminder for me!"
"This is my manta "slow and steady wins the race" !! I am a back of the pack runner who loves to run! This is so inspirational ! It does keep you going!!"
"Provides a constant reminder to get out and run. It does not matter how fast you are."
"Well I will tell you story of how it has in the past and how it could again 🙂 I was running my first marathon and was struggling pretty bad. I had choice to turn at the 1/2 marathon or keep going on full route. I looked down at my 26.2 charm and knew this year I would be a marathoner (the year before my hopes had been crushed with stress fx 4 weeks before what should have been my first marathon). Well I am a marathoner, but since then my comeback has been slow (both in pace and building back up my mileage). This would be an awesome reminder that even if I'm slower than I use to be I am still moving forward towards my goals. And I have a new reason to run. I started running with My Team Triumph-wings of Texas. Pairs able bodied athletes (Angels) with athletes unable to run without assistance (Captains) and spreads the word of inclusion one race at a time 🙂"
"I'm a newbie at 55. I love seeing all the other runners posting pics of themselves and I dream to be like them one day. I haven't run a race yet but my progress is slow and steady….slow progress is still progress I hear….which is why I love the turtle!"
"Slow and steady has become my motto over the last year. Since starting my weight loss journey in Feb of 2014 I have come a long way. 40 pounds down in the course of a year. I'm not done yet. I want to improve. I want to run a marathon by May 2016 and having this little jem around my neck would be a wonderful reminder that I don't have to be the fastest, I just have to go."
"When you are training for a marathon you need anything and everything to keep you motivated to keep going !!!!"
"This necklace would remind me that I can do it, no matter how slow I am, I have always finished and therefore I have won!"
"love turtles. In order to wear this I have to run first. If I can get through the first mile I can get through one more."
"Running jewelry , particularly necklaces, are visual and tactile touchstones to remind me of my mental and physical strength at points of doubt or exhaustion! Thanks for the chance, liked and shared!"
"When running long distances I sometimes get worn down and don't feel like I can keep going…. I'm not fast at all, like a turtle, but I love the way it makes me feel! That's why this piece is perfect for me!"
"Slow and steady wins the race is my motto. I have lost more than 80 pounds. I started with just simply walk then jogging then running. I may not be the fastest out there and I may not be able to run for miles but I get it done. Currently I have signed up for 12 5ks this year and a mud run. Running is not just something I do it has become part of who I am."
"My race, my pace. I might be slower than some but still moving forward. Mantras help me keep moving."
"This is me, always at the back of the pack, but I just keep plodding along! lol"
"Did my first triathlon today. It was just a fun one but I still completed it. I'm so proud of myself. This necklace will remind me of this race & what I can accomplish."
"Trying to get back into the running routine after my 2nd baby. Slow and steady is a good reminder that its ok to not start out exactly where i left off, ill get there eventually"
"Back of the pack runner, this phrase keeps me from giving up"
"I love being a turtle! Slow and steady and never giving up! This necklace would be a great way to celebrate my upcoming 1/2 marathon…which will be my first! Even with 5 young daughters (ages 11,10,7,7, and 2)…I'm making time to train and be an inspiration to them. I want to inspire them not to be skinny…but healthy and confident and to keep working at their goals! I'm not young, skinny, or fast…but like the faithful turtle…I'm steady and I don't give up!"
"I only began running 3 years ago with C25K and I'm now a regular runner, I'd love this piece as your always slower than someone"
"I've been running for about three years now. I love the community of cheerleaders in my running group. I'm never going to be a fast runner but I will keep working at improving."
"It would serve as a reminder that moving is important, no matter how slow. Anything worth achieving usually takes a while."
"hearing a necklace "clink" as i run is a reminder of the inspirational saying on it-or glancing down at a bracelet, gives me motivation to keep going!"
"I have a St Christopher for runners medallion for when I train, and a 13.1 pendant w/ the name of the girl I Run 4 for during my race. It gives a mental and spiritual push to me."
"Slow and steady describes me to a "t". I began running about two years ago with my hubby who was having some health problems related to caffeine consumption. He said he felt so much better physically from running that I thought "why not give it a try". In 2 years I have lost nearly 25 pounds and cut some time off my 5k times even though I am still slow. Recently told someone I was slower than a turtle going up an icy hill carrying a 50 pound knapsack! but I will persevere!"
"I'm the slowest runner in my group- but even still, I get out there and run because I feel so good afterwards! So I might be the last one across the line, but at least I crossed that Finish line!"
"It's like when I see the quote then I want to go out and do my thing. And take friends along."
"This has always been my saying going to a race or just a run around town. I didn't start running until I was 40 & I learned fast to keep a good steady pace-don't go out too fast at the start. My pace has slowed down a bit over the years, but "slow & steady" has always been my saying. I will never be fast like those speedy elite runners, but just to keep a good pace & to run (even if slow). without walking has always been my goal & slow & steady is what works for me."
"Slow and steady is my motto for running and at work!"
"My sister got me started running! I'm always slow but always steady and I always win MY race! Love this and love the running community! Everyone is so supportive. I do my own thing! I did my first half marathon April 25th and it was awesome! Just finished my second half last weekend. I'm totally hooked. Planning for my next one this fall!"
" Inspirational running jewelry will keep me motivated by knowing I am wearing something that proves I and anyone else can do anything if we put our minds to it!"
"Slow and steady, the perfect charm to remind me to keep moving, just walk out the door and start moving."
"My brain is my biggest hurdle , inspiration jewelry helps keep the brain in check every time you touch or read it."
"Better to run slow than not to run. I love the one that says 6 minutes a mike or 12 minutes is always a mile.
I'm enjoying more the turtle ones, to keep me running ! 🏃🐢"
"I would love to win this for a gift for a special friend who is amazing, inspirational and truly motivational not only to myself but others around. Sometimes I think she doesn't realize just how much. this reminds me of your can do attitude."
"I recently lost 100 pounds! Picked up running about 6 months ago! So far my PR has improved by 6 minutes since the very first one! I still have a long way to go but I won't ever stop! Doesn't matter if I'm the first or last racer to cross, at least I know I did it! Can many people say they completed a race!"
"I love this one; sometimes I get so caught up in my times and distance, I forget why I started running and why I love it so much…this helps rind me to just get out there and enjoy it 🙂"
" I love this. I don't think of it as a race against others only a race with myself. I'm not out to win, I just want to finish."
"I love motivational sayings especially when they are with you on your runs! Very cute necklace"
"For me, running is about staying the course-being motivation for my kids to never give up! I was nearing the end if my half marathon training when I was injured and has to stop running very close to the race. My first run back I saw a turtle in my path and thought…slow and steady wins the race…it was also my facebook post that same day! This kept me going to race day…and I was able to complete my first half!!"
"This is a great motto. Persistence pays off, running further and faster will gradually happen."
"Inspirational jewelry stays on you, close to your heart and always there to remind you to just keep moving forward no matter what! In life and on the road!"
"For me, running is about staying the course-being motivation for my kids to never give up! I was nearing the end if my half marathon training when I was injured and has to stop running very close to the race. My first run back I saw a turtle in my path and thought…slow and steady wins the race…it was also my facebook post that same day! This kept me going to race day…and I was able to complete my first half!!"
"I love running. I love the feeling of accomplishment after a good run. I may not be the fastest, but I am the most determined person I know. I will never stop. And it would be an honor to have this amazing piece of inspiration around my neck. I would use it to inspire others around me, not just myself."
"Inspiration jewelry is something I focus on to help me believe in myself, to remember that I can do this! All my friends call me a turtle and my motto is " slow and steady" so this necklace couldn't be more perfect! Thanks for putting it out there !!! Good luck everyone !!!"
"Slow & steady! It's about perseverance & pushing your limits. My motivation is to live a healthier, happier life. It doesn't matter your size as long as you keep going & never give up!"
"Love my racing jewelry. Reminds me of my accomplishments and future goals"
"I started running at age 60, slow & steady. I'm 66 now, still running slow & steady, with a few 5k's, 8k's & 10 k's completed. Next up a 15 k. Slow & steady has gotten me this far and continues to change my life for the better"
"It is a daily reminder that no matter how slow or how fast you go your already ahead of all the people still laying on their couches."
"I absolutely love this. I love running no matter how fast or slow I go, I never give up even if I have to walk the rest of the way. Running gives me a piece of mind and a sense of freedom. One of my life goals is to run in the Nike women's series marathon. It's going to take lots of training and dedication but I won't give up. I will succeed!"
"I have been sidelined lately due to significant foot problems, but I try other things like riding my bicycle. Taking each day as it comes has been a mantra. I fight depression and anxiety, and exercise is very important in that fight. Some days, I just have to keep telling myself to put one foot in front of the other. Slow and steady, I can do it."
"Inspirational jewelry wld get me more motivated to run because the saying would become my new mantra and is feel that I'd have to run more in order to have the "right" to wear running jewelry"
"Just starting to jog/walk and am noticing positive changes such as increased energy levels, feel better about myself and realizing the only way to continue is "slow and steady" the same way all the weight came on!"
"This reminds me that no matter how slow I go, I'm still out there giving it my all. And I'm moving a lot faster than I was 2 months ago before I starting this amazing journey."
"I am on injury break and would love some bling to kick start my return. Motivation is low right now as I want my injury to be better AND not recur!"
"This has been my mantra…in running and life!!! It would mean so much to have such a lovely, inspirational piece of jewelry!"
"What an inspirational piece! What could be better; turtles are steadily make a come back at there own pace. It shows that if you keep moving forward at a steady pace you can conquer amazing things. I would love to win this necklace!!!"
"I am preparing for my first half marathon & I love turtles! This necklace would be my anchor!"
"Because this is me in every sense. I love to run but have no speed, I am out there to just enjoy the sights and be in my own little world, it is very peaceful. I have also actually entered races as the turtle."
"I just started running again. My goal: prove all the people wrong who told me after I had my daughter (13 years ago) I would never run another marathon. Jewelry gives me inspiration. I see myself holding onto this when the going gets tough and using it to channel renewed energy!"
"I would wear this in all my marathons coz that how you run them stead and slow gets us there in the end."
"Slow & steady gets you to your destination in any area of life! As for running, it impresses upon my body and mind the importance of *living* life to the fullest: Live while you live!"
"I just became a 5k runner at the age of 39. I completed my first one in March and my second in May. I was slow, but I finished!! I dropped almost 40 pounds and after my second finish, I signed up for a 5k for every month this year to ring in my 40th birthday in November.
I just recently found out I need a total knee replacement. I will be having surgery in exactly 3 weeks. This will help me remember that my recovery may take some time, but it will happen! It will also motivate me to get well enough to walk (part of, if not most of) the 5k's that I am signed up for from August on!! I can do this!! And will be back stronger than ever!"
"Slow runners make fast runners look good- you are welcome. Running quotes and jewelry inspire me greatly"
"This is my motto. I know I will never win a race, my goal is to finish it without walking"
"A friend bought me the turtle necklace that says "my race, my pace" before my marathon and I repeated that to myself every time someone would pass me or the numbers started getting in my head. It really helped me to stay going."
"I recently started training for a 5k I am determined to run a marathon one day the necklace would remind me to never give up on my dream!"
"Because slow & steady wins the race is so me !!! I have repeatedly said "I don't run" in the years past. I am not a runner, but i give it my all !!! It may take me 45-50 minutes to complete a 5k, but i do it !!! I will never win a 5k & i'm ok with that because i know i am faster & better than all the ones at home on their couches !!"
"Inspirational jewelry is another beautiful expression of how far I have come in my journey to a healthier life. And how much further I would like to go!!"
"Runner's jewelry is like a secret with yourself – I'd know it was on me & having a mantra to be able to say to myself can keep me focused on running MY own race and not worry about what's going on around me. I run for me"
"This is so me! Perfect inspiration in jewelry form. I love necklaces because I can wear them everyday and I prefer jewelry that has meaning like this one."
"Without inspiration on something I would not be as far as I've gotten! I have inspiration on my Road ID, my running bracelets, and my phone to keep me motivated! I am slow but I still run! I've got an awesome support system and supportive running group (all faster than me but still more supportive than anything!)."
"My very good friend and I would rock these awesome necklaces – if it weren't for each other as motivators, we wouldn't have made it to our half marathon last month! Not to mention, I love turtles! wink emoticon I'm keeping my fingers crossed to win these!! This necklace might encourage us to go for a full marathon!"
" I started running after a fight with cancer….I love running everything. This is perfect for me since I maintain a steady pace and have since I started. I am beginning to take on harder challenges as I did my first trail run and am hoping to do my first half in October."
"As a runner and cross fitter, I know what it's like to finish last. But I don't care. I always call myself "Turtle" at the gym. I may not be fastest, but I always finish! And I always tell my trainer, "Slow and steady wins the race!""
"Inspirational jewelry will help motivate me to run more often and to keep challenging myself to be better then yesterday by simply wearing it. Much like tattoos and the clothes we wear, we select jewelry that reflects how we feel, our goals and reminds us to just be us no one else. So this buckles to me will remind me that even though my nickname is turtle and am not a fast runner I have always been consistent and have never stop. I remember getting sick every time we ran several miles a day during training in the service but I never stopped moving and always kept up and finished with my brothers and sisters.and this will remind me of that."
"Turtles describe me in so many ways, and I love them. I even have (so far) 4 tattooed on me. Slow and steady has been my motto with running, definitely not a speedy Gonzalez! I would love to win this!"
"Love this. Great reminder that pace doesn't matter as much as actually finishing the race! (A concept I struggle with!)"
"The hardest thing about running has been getting my mind out the way so my body can show what I can do. That's been a struggle for me, but I keep on pushing on cause I see the results of my hard work. It's been officially a year of me doing several 5K, 2-10K, 1-15K, 1-10 miles and a half marathon on June 14th and I don't plan on stopping. I'm slow, steady, but also stronger for starting this journey and I'm looking forward to the next leg of this life. That's why having a reminder around my neck reminds me to keep going and don't quit no matter how slow cause you are always gonna be steady when you don't quit"