Compression socks real or a waste of money?
Compression socks real or a waste of money? Recently I have had a lot of calf and hip pain but don't want to waste money. Thanks!
I would be in agony if I did not use my compression socks/sleeves whenever I run. definitely worth the cost.. make sure to get fitted for them. I use zensah brand but of course there are several..
Left Lane Sports has Mo Jo brand compression socks and sleeves on sale today. I don't know if any brand is superior but these are affordable.
I love them. No calf pain with the socks. I just use the ones from sox box.
Big help for me…running and hiking
Get them on RunningWarehouse.com they are cheaper there than regular sporting goods stores
They have helped me and I have been running for 37 years. Wish I had them earlier.
Compression is real! Use compression pants and socks as I have hip pain and get cramps and shinsplints…better by far with compression. I wear them for abt 20 min post run/workout.
I love mine. CEP. Totally worth it. Look at the investment this way- they last longer than the shoes they fill!! Please get fitted, though.
Totally real and worth every penny
I could not run w/out mine! They have save my shins! They are shinsavers!
I wore some today on my run and felt great. I have pain in my Achilles' tendon. They helped.
I bought mine on groupon pretty cheap
Personally I feel I see greater benefit in wearing them after the run for recovery.
Mine are mojo, too with extra padding and support over the tendon
These comments are very helpful for me! Where would I get fitted? Local running store or just any sporting goods store?
question: how do they help with hip pain?
Tons of studies with mixed results on the internet. They definitely help with post run recovery. Along with calf and quad sleeves. Most articles I've read say personal preference during runs.
Night and day for me with sore calves! Before the socks, I was using the stick several times a day. Now that I have compression socks, the stick is literally in the corner gathering dust
Just got mine! I was very skeptical but they do work wonders! Love them!
Believe the hype. They work.
Took out my persistent calf pain. CEP and 2XU are the best — you get what you pay for…
For me, when I've worn them in the past my pace was always slower.
They're nice for recovery. I never would have thought "gadety" things for me. I thought that was a very HARDCORE kind of thing, but it helps my leg and foot pain and fatigue. I've only wore them one time DURING a run, and that was good too. Not sure if I'm going to wear during my first half coming up next weekend. but I sure am taking them along for the ride home.
Always use compression (SmartWool) post run.
LOVE I mean LOVEEEEEEEEEE Compression Socks!! Big Believer in them on long runs- NO a gimmick or waste of $$$$ as far as Im concerned.
Well Meb just had his on as he finished Boston so that should really be all the confirmation anyone needs.
I know for a fact they really help my shin splints.
Wearing compression sleeves completely stopped my sore, aching shins. I found mine on clearance (hot pink!!) at Sun & Ski. I have also seen them at Marshall's for $20. Marshall's is a great resource for running stuff – I have found great deals there on brand name runner's socks, belts, water bottles, and clothes!
Wow you guys rock…think part of my problem was the Dr finding I have high blood pressure and put me on some meds that can also cause water retention (taking a water pill too) but my legs and hips have never hurt like this before (training for my 4th 1/2 marathon).
I have used compression sleeves while running longer obstacle races. I noticed after doing two laps of a 4 mile obstacle race that I had swelling in in my arms so I started using compression sleeves.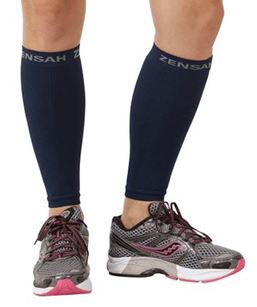 BUY COMPRESSION SOCK FROM AMAZON